July 15, 2011 -
Barry Dorey
Potential mid/late-round rookie impact players
The lockout has dramatically hurt the chances of many rookies to contribute in 2011. But because of team needs and injuries there will be a good amount of rookies who do in fact have to contribute. How well they play remains to be seen.
Coaches will say that the rookies have missed too much work and they won't be able to trust them in game situations. By today's standards that's true — teams can't afford mistakes made by anyone, let alone a rookie, but it hasn't always been that way. When I started in the league in 1984 there was no offseason program and no OTA's but rookies still found a way to play and make significant contributions. My, how money has changed things!
Every year there are mid and late-round rookies that surprise everyone and make huge contributions. Last year, Chicago's last draft pick J'Marcus Webb ended up starting most of the season at right tackle. While he struggled early in the year he showed great improvement and by the end of the year he showed he was on his way to becoming a fairly good NFL starter. This year will see more of the same and here is a guess as to who some of the players will be.
Ahmad Black – Safety – Tampa Bay
Black doesn't have ideal size or speed (5-9, 185, 4.7) but he is one hell of a football player. He has outstanding instincts and when you have that trait you have a chance to play early. He was a playmaker at Florida and I'm sure he will be the same in the NFL. He also has very good football character.
Christian Ballard – Defensive Line – Minnesota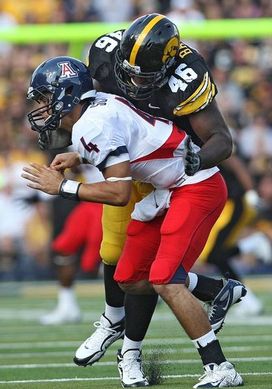 ICONFormer Iowa DL Christian Ballard
Ballard looked like he may be an early draft choice back in February but then some off field issues came into focus causing him to drop. The Vikings were able to draft Ballard in the 4th round. Ballard is an outstanding talent. He can play the run, rush the passer and can play either inside or outside. I'm sure he will be in the defensive line rotation before the season is five games old.
Kelvin Sheppard – Linebacker – Buffalo
Buffalo tried to make the transition to a 3-4 defense last year but didn't have the players to do it at some positions. Sheppard, the Bills third-round pick, is an ideal fit to play inside linebacker in a 3-4. He has size, strength, speed and instincts. He does a good job taking on blocks and holding the point of attack. He should start fairly early for the Bills.
Chris Conte – Safety – Chicago
I wrote after the draft that I didn't know much about Conte when the Bears drafted him. I sent a text to a scouting director asking him to tell me about Conte. He told me that he felt Conte might be the best safety in the draft. I trust this man's opinion very much, but still I decided to look at tape to form my own thoughts. All I can say is that he was right. Conte plays fast, has excellent instincts and is a hitter. He was a corner his first three years at Cal and because of that he has better man to man coverage skills than many safeties. With the Bears having the possibility of losing Danieal Manning, Conte may be in position to start soon.
Edmund Gates – Wide Receiver – Miami
The Dolphins were looking for a deep threat at the receiver position and may have found him in Gates. Gates was one of the faster players at the combine running a 4.35. For a small school player he shows good skills and has very good hands. He may be able to do for Miami what Johnny Knox did for Chicago in 2009, give the Dolphins an instant deep threat.
Note on Randy Moss
Yesterday I read where Randy Moss' agent said that Moss is in outstanding shape and ready to play like he did early in his career. It cracks me up because what is the agent supposed to say, "He can't play anymore?"
Moss is a very talented player and even at 34 is a player defenses have to worry about. The problem with Moss isn't his talent, it's his attitude. The Vikings, who were in need of a receiver last year, brought him in and cut him shortly after. Then Tennessee signed him and he did little for them. The only team that has been able to handle Moss throughout his career is New England and that's because Bill Belichick demands certain things from players and if he doesn't get them they are gone. Unless Moss goes to a club with an extremely strong head coach, don't expect Moss to be much of anything.