June 24, 2011 -
Greg Gabriel
Potential second-year impact players, Part II
On Tuesday I wrote about some second-year players who may have an impact in 2011. Most of the players I wrote about were players taken in the first two rounds. Today I will talk about some players who were drafted starting in the third round.
Major Wright – Chicago

In the 2010 draft, Wright was the Bears first pick; though it was in the third round. He was drafted to start but because of an injury sustained in training camp his development was hindered. In the second half of the season, Wright got a lot of playing time in a rotation with the two starters (Chris Harris and Danieal Manning) and played well. Wright is an ideal strong safety who is a big hitter and has better cover skills than many at the position. He will pair with this year's draft pick Chris Conte to give Chicago a very athletic pair at the safety position.
Jacoby Ford – Oakland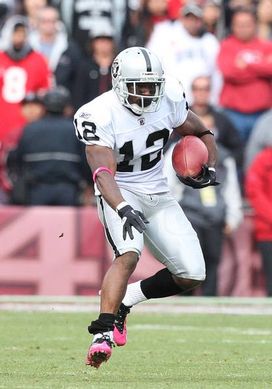 ICONRaiders WR Jacoby Ford had a strong second half in 2010.
I felt the Raiders had one of the steals of the 2010 draft getting Ford in the 4th round. He was one of the fastest players in the draft and had a strong career at Clemson. He started slow with the Raiders but had a very good second half of the season. With his speed and open-field running ability he gives the type of big-play threat they love. While he may never be a No. 1 receiver, he can be an impact-type player who can play in the slot or split out.
Morgan Burnett – Green Bay

Burnett won the starting free safety job in training camp and played well through the first three games. He got hurt in the fourth game and missed the rest of the season. He has size, speed and great ball skills. He wasn't known for his hitting ability in college but in the short time he played he looked like a much better hitter. Burnett has the tools to be a top flight free safety in the league.
Walter Thurmond – Seattle

Early in the 2009 college season, Thurmond looked like a sure first-round pick. He showed great cover skills to go along with excellent return skills. Then he tore up his knee near the end of the season and had to go through a long rehab. When he was drafted by Seattle he was not 100 percent and though he played the whole season he never looked like the athlete we saw at Oregon. With another offseason to rehab he should be back to top form. He has the tools to eventually be a No. 1 corner in the league.
Akwasi Owusu-Ansah – Dallas

Owusu-Ansah is a very interesting player. He played at Division II - Indiana (Pa.). Though he dominated versus a lower level of competition he was still very raw and really wasn't ready for prime time as a rookie player. He has the physical tools to play either safety or corner. He can run and has excellent body control. In college he was also a top returner. Players like this often come on strong in their second year. They need the year to learn pro-style techniques and adjust to the type of players that are in the NFL.
Geno Atkins – Cincinnati

Atkins doesn't have great size (6-1 and 293 when he came out of college) but he is both fast and quick with outstanding strength (34 reps at the Combine). He is not a fit for every defense but plays in the right scheme in Cincinnati. He can play either on the nose or as a 3 technique. He has excellent initial quickness and can play with leverage. I watched a lot of tape on him before last year's draft and I really like his talent. I look for Atkins to have a strong 2011.