June 28, 2011 -
Greg Gabriel
Potential second-year impact players, Part III
In this last installment of second-year players who may have a chance to make an impact in 2011, we will take a look at some players who were drafted in the later rounds and who have a chance to come on in their second season.
Robert Johnson – Safety – Tennessee
Johnson was drafted in the fifth round out of Utah. He is a tall, rangy guy with great ball skills. I did a lot of work on Johnson before the 2010 draft and I feel I know his game well. He has very good instincts and zone cover skills to go along with his ball skills. In college the knock on him was that he wasn't a good enough hitter. If you did a lot of tape work, though, you saw enough to know that he doesn't shy away from contact but he doesn't attack either. The bottom line is if you can find a safety with instincts and ball skills then they have value. My feeling is that he will have a big year for the Titans.
Arthur Moats – Linebacker – Buffalo
Moats was drafted in the sixth round and became a starter the last half of the 2010 season. He was a dominant pass-rushing defensive end at FCS James Madison but had to make the conversion to outside linebacker with Buffalo. Watching his play during the year, he showed improvement from week to week. Where he had the most trouble was in pass coverage, having never done it before. He showed good drops and was able to get depth but his overall awareness in coverage was questionable. With the year of experience under his belt he should show huge improvement in this area. As a pass rusher, he is fast and explosive coming off the edge with good moves.
Corey Wootton – Defensive End - Chicago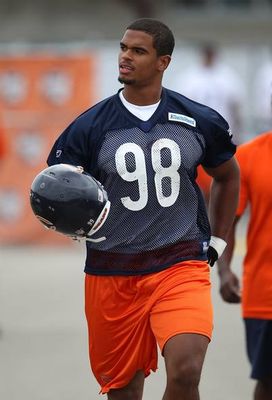 Corey Wootton will get plenty of playing time in Chicago's defensive line rotation.
Wootton was the Bears fourth-round pick a year ago. Going into his senior season he had a very high combine grade, but he was hurt (right knee ACL) in his team's bowl game at the end of his junior season and did not look like the same player. He lacked the explosiveness that he showed as a junior. This carried over to his workouts before the draft and thus he slipped to the fourth round. With the Bears having a lot of depth in their defensive line it wasn't until the last part of the season that he began to get playing time. In his limited role he showed flashes of his former self and this year he could play a big role in the defensive line rotation. The Bears like to rotate 6 to 7 players on the defensive line, so it could mean playing as much as 50 percent of a game. This is a tall, athletic guy with edge pass rush ability.
Austin Lane – Defensive End – Jacksonville
Lane was drafted in the fifth round out of FCS Murray State. He did not get much playing time the first half of the season but worked his way into the D-line rotation by midseason. He is a tall, long and athletic defensive lineman with speed. In the games I saw last year he played with a high motor and showed good instincts. While he was a dominant pass rusher at a small college, he has yet to develop his pass rush skills in the NFL. However, he still has the traits and should become a more than adequate pass rusher at the pro level. He is an interesting guy to watch this season.
Ramon Harewood – Tackle – Baltimore
The Ravens drafted Harewood in the sixth round a year ago. He is a huge man at 6-6 and 358 pounds with 5.1 40-speed. For a man that size he is a remarkable athlete. Harewood got hurt in training camp and was placed on injured reserve so he still hasn't been developed. He dominated in college against poor competition but you could see his talent. He's very raw from a technique point of view but he is also extremely smart and has a great passion for the game. I don't look for Harewood to be a starter this year because he missed so much time a year ago, but he is a guy to keep your eye on. He has the talent to play tackle or guard and I think that the Ravens will play him wherever he can get on the field the earliest. Harewood is another interesting guy to track this season.