July 01, 2011 -
Barry Dorey
Potential second-year impact players, Part IV
Tuesday's post was supposed to be my last article on potential second-year impact players, but I have had a number of requests to talk about other players that I had not included in the first three posts. After looking at the 2010 draft list, there are still a number of players who should show great improvement in their second year.
Kyle Wilson – Cornerback -- New York Jets
Going into the 2010 draft, there were many scouts who felt that Wilson may have been the best corner in the draft. He ended up being the third corner taken. The Jets may have the strongest corner group in the NFL. With Darrelle Revis and Antonio Cromartie, they have two great cover guys. Because of that, Wilson had a tough time breaking into the lineup. It was midseason before Wilson earned a lot of playing time and he ended up with 21 tackles. Like many rookies he struggled at times, but you were able to see his strong traits. He has the tools to be a solid number 2 corner in the league. If the Jets decide not to bring back Cromartie then Wilson will have a strong chance of being the starter opposite Revis.
Jason Pierre-Paul – Defensive End – New York Giants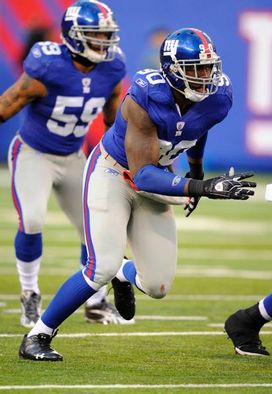 ICONJason Pierre-Paul recorded 4.5 sacks in his last six games of the 2010 season.
Pierre-Paul had a strong second half of the season last year. In the last six games he had 4.5 sacks, 4 passes broken up and 2 recovered fumbles. When I saw him at South Florida I felt he had almost limitless pass rush potential. He is a very instinctive pass rusher with speed and natural explosion. He didn't play a lot of college football so he will keep improving with experience. While he still may not be a starter his playing time will increase dramatically while playing in their rotation. He will be a constant in the Giants nickel and dime packages as a pass rush specialist. He could become one of the most feared pass rushers in the league within the next few years.
Terrence Cody – Nose Tackle – Baltimore
Cody, who was the Ravens second-round pick a year ago, wasn't quite ready for the rigors of pro football last year. He was overweight and lacked good stamina. Reportedly, Cody has spent the offseason getting into top condition and now has his weight under control and his lowered his body fat percentage. Cody will never be a pass rusher, but because of his bulk and power he can be a force against the run. While he is not fast, he has quickness and very good balance. When the Ravens pair Cody with Haloti Ngata, they will be almost impossible to run against.
Sam Shields – Cornerback – Green Bay
Shields was an undrafted free agent last year. He didn't get drafted because he only played corner one year at Miami and also had some off-field issues. Still, he is a remarkable athlete with the natural instincts to play corner. The Packers have a strong starting combo in Tramon Williams and Charles Woodson and Shields gives the Pack a very good third corner. He got 6 starts in 2010 and finished the year with 29 tackles and 2 interceptions. This year he should be a fixture as the nickel corner and when Woodson retires he should step in as his replacement. This was an outstanding free agent signing.
Tim Tebow – Quarterback – Denver
I'm not writing up Tebow as a potential breakout player in 2011 but I have had requests to write about him. The lockout has really hurt players like Tebow. He will be playing for a new coach in a new offensive system and not having an offseason will set him back. I am not one of the people that feel Tebow is going to have a bright NFL future. I felt when he was coming out — and still feel — that he is a long ways away from being a good starter. He is way behind Kyle Orton in terms of being ready to win in the NFL. Tebow is a great competitor, an outstanding athlete and a leader. But he is still raw as a passer. While he showed improvement with his technique last year he still is more of a run first, pass second type player. His accuracy is average, he lacks a quick release and can be a bit slow to read coverages. In short I feel he is still a few years away from being a starter let alone a quality starter.