June 21, 2011 -
Greg Gabriel
Potential second-year impact players
Hall of Fame coach Marv Levy told me in a conversation many years ago, "Let rookies be rookies, you don't expect much from them their first year. It's in their second year when they begin to come on." I always took that to heart. Since that conversation I have felt that anything you get from a rookie is a bonus and you expect them to start performing their second year. Why? As a rookie, everything is new: new team, new environment, new offensive and defensive schemes, etc. Some have to play because of injury or lack of depth at a position and of course if the player is a high pick and making a large sum of money, people expect more. There are other draft picks that don't play as expected because of injuries they suffered in camp or during the season.
There are only 32 first-round picks and over 250 players drafted each year, so in reality it's only a small percentage who play big roles their first year. By the time a player reaches his second training camp, he is much more relaxed and confident in what he has to do. It shows on the field! With that being said, here are a few players that clubs may expect to have more of an impact this season. I will write up a number of these types of players my next few posts; many of the players in the first group had injury problems as rookies and should be 100 percent this season.
C.J. Spiller – Buffalo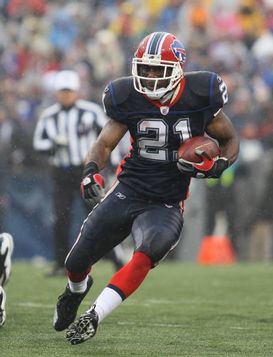 ICONC.J. Spiller ran for less than 300 yards and no TDs in his rookie campaign.
Spiller was the ninth player and the first running back selected in the 2010 draft. When you are taken that high, you are expected to produce and Spiller didn't last year. He ran for less than 300 yards and no TDs. He also caught 24 passes.
Spiller has big-play potential with his speed and run instincts and with a learning year under his belt he should be able to put up much better numbers. I doubt he will ever be a bell cow type of back — he lacks the size but if used properly in a rotation he can come up with some big plays. His return skills and receiving ability can be special.
Derrick Morgan – Tennessee
Last year I thought Morgan was a great pick for Tennessee. He showed dominating ability while at Georgia Tech. He never got untracked last year due to injuries and was finally put on injured reserve after the fourth game. I expect him to become a big part of Tennessee's defense this year. He's a natural left end in a 4-3 front with excellent pass rush potential. He has excellent size, athleticism and speed.
Jared Odrick – Miami
Odrick was another first-round player who had his rookie year ruined by injuries. He got hurt in the opening game versus Buffalo and did not play again the rest of the year. Odrick is a big, strong 5-technique defensive end who is a perfect fit for the Miami defense. He excelled as both a run defender and a pass rusher in college. Expect big things from him in 2011.
Arrelious Benn – Tampa Bay
Benn was drafted to be the big-play wide receiver that the Bucs desperately needed. Tampa Bay got big production from a rookie receiver, but it wasn't Benn — it was fourth- round pick Mike Williams. Benn has great physical tools with both size and speed but was raw and undisciplined coming out of college. Having had a year to learn the offense, he should be more comfortable in the Tampa scheme. If he plays to his potential this year, Tamps is going to have one of the better receiver combos in the NFC South.
Sergio Kindle – Baltimore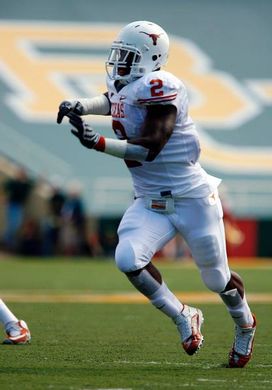 ICONCan Sergio Kindle recapture the dominant form he had at Texas?
Kindle, the Ravens second-round pick, never got a chance to play last year because of a fractured skull he suffered when fell. There was a time during the season when there were doubts that he would ever be cleared to play but as of now it looks like has a good chance of making his debut in 2011. Kindle was an undersized 4-3 defensive end in college with great pass rush ability. He is making the conversion to outside linebacker in a 3-4 where his pass rushing talents will be best utilized. Because he has never been to camp, he will still be a "rookie" this year but he still knows the defense and knows what is expected of him.
O'Brien Schofield – Arizona
Schofield had a strong senior year as a defensive end at Wisconsin and followed that up with an outstanding week of practice and game at the East–West game. He was named the defensive MVP for the game, playing both linebacker and defensive end. The following week at the Senior Bowl he tore an ACL and because of that was unable to work out for clubs and that hurt his stock. He looked like he may have been a 2nd round type but because of the injury he went in the fourth. He was unable to play in training camp and the first part of the season but ended up playing in 10 games. While not quite 100 percent he still was able to get 2 sacks in the last few games. Now that he has had another offseason to rehab I expect him to come on strong this year. He will give Arizona edge pass rush skills from his outside linebacker position.