April 20, 2012 -
Greg Gabriel
Preparing a strategy for the draft
Preparing for the draft isn't just meetings going over reports on the players a club likes. General managers and scouting directors also spend many hours preparing a strategy for the 3-day event. Much of it is figuring out a way to get the players you covet but you also have to prepare for the worst. I always felt that if you can accept the worst-case scenario then you are in good shape.
We often see a lot of trades happen during the draft with some teams wanting to move up and others wanting to go down. Teams usually trade up especially in the first round because they feel the player they are trading up for can be a difference maker. Last year we saw Atlanta trade up from the 26th spot to the 6th spot to draft Alabama's Julio Jones. To make the swap Atlanta had to give up its pick in the first round (26th slot) and also a 2nd and 4th round pick last year as well as 1st and 4th round picks this year.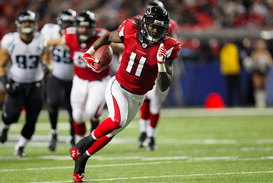 Atlanta gave up a lot when dealing for the right to draft Julio Jones.
For Cleveland it was too good an offer to pass up. Atlanta made the trade because the Falcons felt they were just a few players away from a Super Bowl and one of these players was Jones. Seldom do we see trades like that. In most years when you trade up or down in the first round it isn't 20 slots, it's more like 3-10 slots where the price to move up isn't as steep.
Just as there is a reason for trading up there is a reason for trading down. In most cases it's because you figure you can still get a player that will help you by moving back and of course because you acquire extra picks. In saying that, you don't trade down for the sake of trading down. You have to know the value of players you like and what their value is to other clubs as well as your own.
For instance, let's say you're holding the 8th pick and there are 4 players that you like and you know that each player can help you win. All 32 clubs are not going to have the same feeling about those players so you have to figure out how far back you can move without risking losing all of those players. Many times just looking at the needs of the clubs drafting behind you can give you the answer but you also have to figure that by moving back say 7 slots you also have the risk of a team moving up in front of you and taking one of those players. So when you move back you have to be prepared that none of the players you want is going to be there. If that's the case you have to have a backup plan ready for that scenario. If you can live with the backup plan then it's safe to say that you should have no problem pulling the trigger on such a trade.
You also have to look at the total package you have after the trade. Let's say a club trades down and by doing so gives up a chance to get a high rated player at a certain position. By making the trade you have to look at what you can get with the lower pick plus what you can get with the picks you obtain for making the trade. Is your club better off with that package of players versus the one highly rated player? The overall depth of your club also figures into that thinking.
Strategy also figures into what positions you are going to draft in each round. A club has to look at the strengths, weaknesses and depth of each position. If you go into the draft needing a running back, an offensive lineman, a quality corner and a linebacker you have to figure where you can get a player at each of those positions and get quality with each pick. If there is an abundance of good linebackers in the draft that fit your profile then you wait to draft a player at that position knowing that the probability of getting one in a later round is good. If one of your main needs is at corner, you have to be prepared to draft one early. History says that in the first 3 rounds, 12-15 corners will get drafted. History also says that you can find a quality running back in the 3rd or 4th round. With that being the case, you may decide to draft the corner or offensive lineman early and wait till the 3rd and 4th rounds for the running back and linebacker.
In saying that, when it is your turn to pick and there is a player at one of the need positions that is obviously a level better in quality you have to take him even if it means losing out on drafting all your needs. You can never say no to a higher quality player; it will often come back to haunt you. Needless to say, if you go into a draft with needs for a quality player at four positions and you come out of the draft filling three of those needs then you have had a successful draft. If fill all four needs then your draft has been great.