April 17, 2012 -
Greg Gabriel
Prospect focus: Appalachian St. WR Brian Quick
One of the more interesting small school prospects in this year's draft is receiver Brian Quick from Appalachian State. Quick might have played at an FCS school but there is not a scout in the NFL who doesn't know about him. He is an intriguing prospect because of his size and upside. He is 6034 and 220 pounds, and he ran an average of 4.55 at the Combine. He also had a good week of practice at the Senior Bowl competing against players from much better programs.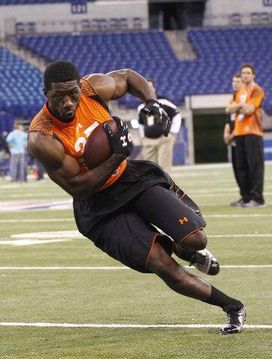 Brian Quick finished 2011 with 71 catches for 1,096 yards and 11 touchdowns.
In other articles about prospects I have written about the recruiting process as they came out of high school. In Quick's case there was virtually no process. He was a NO star recruit from Columbia, South Carolina. He did not start playing football until his senior year in high school and Appalachian St. was the only FCS program to recruit him. The other schools to look at him were Div. II and Div. III programs.
At App St. he played in the first two games of his true freshman year but then was redshirted with a back injury. In 2008 he was a part time starter and caught 23 passes for 7 touchdowns. The next 3 seasons he was a fulltime starter and his stats got better as he gained experience with the game. He finished 2011 with 71 catches for 1,096 yards and 11 touchdowns. He was truly a dominant small school player.
Despite his growth in the sport, Quick still needs a lot of development. He played in a fairly simple spread passing attack. His route "tree" consisted of about 4 patterns (outs, comebacks, slants, streaks). While he has good quickness off the ball he is not a precise route runner. He is athletic and can get in and out of cuts with good quickness but you will see plays when he doesn't seem to go all out.
Because of his size he is "open" even when covered closely. He is used deep some and gets production but you don't see him running by FCS defensive backs. He plays to his timed speed and maybe even a little slower. He has good but not great hands. He shows good ability to adjust to the ball and you will see some "Wow" catches. At the same time, there are too many concentration drops. Many of the drops should be easy catches. After the catch, he shows a quick burst. In the Virginia Tech game he splits two defenders for a long run after a short pass. While not elusive he does run with strength and power. He is not asked to block that often and when he does he is not very good at it.
Overall, Quick is an interesting prospect because of his size and athletic traits. He is still a work in progress and the club that drafts him should not expect early dividends. It's going to taking him time to develop the intricacies of an NFL passing offense and develop his route running. You have to hope that he will be a good special teams player while he is learning. The word on the street is that he could go in the 2nd round, but I wouldn't want to take him before the 3rd. This player has a lot of upside and it will be interesting to see how he develops once he gets into the league.