March 04, 2012 -
Greg Gabriel
Prospect focus: Illinois receiver A.J. Jenkins
Going into the Combine, many of the draft guides you can buy at newsstands had A.J. Jenkins as basically a third level receiver. He was ranked by these "draft experts" as anywhere between the 15th and 20th receiver. The problem with many of these draft guides are that many of the people they use to do the evaluations are basing these evaluations on the player's 2010 season not 2011. At best they use only the early part of the 2011 season. On top of that many of the so-called "evaluators" don't have the qualifications to properly evaluate a prospect.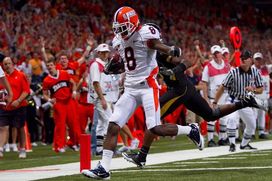 ICONA.J. Jenkins had 90 catches for 1,276 yards and 8 TDs last season.
Take Illinois' Jenkins as an example. As a freshman and a sophomore he caught only a total of 21 passes in a backup role. In 2010 he played a more prominent role catching 56 passes for 746 yards and 7 touchdowns. Still he wasn't recognized as a top receiver because he measured only 6-0 and 180 and didn't get timed in the 40 last spring for scouts. Scouts estimated his speed at anywhere between 4.50 and 4.55. In the 2011 season he had a breakout year with 90 catches for 1,276 yards and 8 TDs on a team that didn't have a strong passing attack. He followed that with a strong week at the East-West game and a strong performance at the Combine. He measured 6-0 and 190 and while some thought that Jenkins had just averaged speed, he turned out to have great speed. Unofficially he ran 4.37 and I've been told by scouts that most had him in the low 4.4's. When you watch tape (and I did) you can see that kind of speed. He plays fast and has very good body control.
Coming out of high school, Jenkins was a 3-star recruit. While he wasn't rated as a top player by some of the services he still had a very impressive offer list with schools such as Florida, Florida State, Miami and South Carolina all offering him scholarships.
While at Illinois he became a typical college player, showing improvement every year and had his best season as a senior. This is a player who still has upside and will continue to improve.
Jenkins lines up both inside and outside. He has a quick release and is a fairly good route runner. With his body control, he can get out of cuts quickly and gain separation. He is effective both short and deep. He has good hands and can adjust to make the difficult catch, but like many receivers he will have the occasional concentration drop. The one route where he was very productive is the 5-7 yard crossing route. With his burst and run skills, he was consistently able to get a lot of yards after the catch. When the ball is in his hands he can look like a running back, showing elusiveness and power. I like the way he goes after the ball in traffic; he is not afraid to give up his body and take a big hit.
Overall, while Jenkins is still a bit raw, he has the talent to play early in his career. He has the one trait that can't be coached: SPEED. I see him getting playing time as a rookie and eventually developing into a solid starter. While he may never be a 1 receiver he can be a good 2. I doubt he makes it to the 3rd round…he has too much talent, too much upside.