March 06, 2012 -
Greg Gabriel
Prospect focus: Iowa receiver Marvin McNutt
What can be difficult in scouting is when a player's workout doesn't match up with what you saw either in person or on tape. Such is the case with Iowa receiver Marvin McNutt.
Early in 2011 I saw the Pitt game on TV, I then watched three game tapes (Northwestern, Minnesota and Indiana) and then I watched him practice for three days at the Senior Bowl.
Television tape can be very misleading when watching a receiver or defensive back. You see the beginning of a play and the end but nothing in the middle. He looked good on TV because of his production. After watching game tape and seeing him in person I came away with an entirely different opinion.
What I believe is that he is an average athlete with average play speed to go along with very good hands and ability to track the ball. What makes it even more confusing is that his unofficial time in the 40 at the Combine was a sub 4.5. I will say that in most cases the unofficial times were much faster than the official times this year. With that in mind, I would say that his official time was somewhere in the low 4.5's.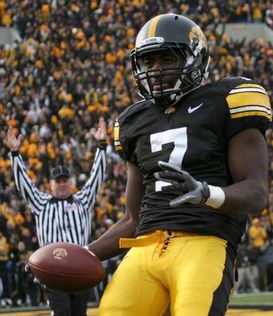 Marvin McNutt had 82 receptions for 1,315 yards and 12 touchdowns in 2011.
Looking at McNutt's career, he was recruited as a quarterback out of high school. He was a 3-star recruit and was offered by most of the top football programs in the Midwest. He redshirted as a freshman and then played as a backup quarterback his redshirt freshman year. In 2009 he was switched to receiver, started five games and had 34 receptions. His production improved to 53 catches and 8 touchdowns in 2010. He capped off a very good career with 82 receptions for 1,315 yards and 12 touchdowns in 2011.
McNutt has very good size, measuring 6-2 and 216 with average length arms (31.5) and over 10" hands. On tape and in person he shows good initial quickness but he is not very explosive. In the tapes viewed he seldom had to go up against press coverage but when he did he struggled some. While he shows the quick feet and moves to avoid some jams, he doesn't show the burst to get separation from man coverage, nor does he have the upper body strength to fight off a strong jam.
Where he is very good at is finding the open seams versus zone coverage and that's where he gets most of his production. I felt his ability to get in and out of cuts was average and at times he took extra steps and again didn't show a burst. The reason for this is he is a bit tight hipped and he doesn't have that mid-body flexibility to open up his hips and burst with smoothness. On the deeper routes you again don't see him show consistent ability to separate. His play speed is closer to 4.6 than 4.5. In the Indiana game he had an 80-yard TD catch but the route was a 15-yard crossing route. Two defenders ran into each other, falling on the ground leaving McNutt wide open after the catch.
McNutt has very good hands; he easily snatches the ball. He shows excellent ability to adjust to the ball in the air and makes some difficult catches. His concentration is very good. After the catch, he gets what's there, flashes some moves but you don't see much power. As a blocker he is average at best.
Overall, I don't see McNutt as an elite receiver mainly because of his play speed and hip tightness. While he was very productive at the college level, I'm not so sure that will carry over to the NFL. I have my reservations as to him being an eventual starter in the league. He would be best as a team's 3rd or 4th receiver. He lacks the suddenness needed to be a slot receiver. Though he may get drafted as high as the 3rd round, I wouldn't want to pull the trigger until at least the 4th round and would prefer the 5th. Over the years I have seen too many receivers like McNutt turn out to be just average guys once they reach the NFL.