March 10, 2012 -
Greg Gabriel
Prospect focus: Iowa's Shaun Prater and Mike Daniels
As seems to be the case every year, Iowa has some solid defensive prospects for this year's draft. While Shaun Prater and Mike Daniels might not be premium round players, they will be good draft picks and should play in the league. One thing you can be sure of is Iowa players are well coached. Let's take a look at their play.
Shaun Prater
Prater is a 4th-year senior and a 3-year starter for Iowa at corner. Coming out of high school he was not highly recruited and was rated as only a 2-star recruit. The major schools that offered were Iowa, Air Force and Nebraska. The main reason he was not highly touted was his size. He weighed less than 160 pounds as a high school senior. Since that time he has grown to 190 pounds (his Combine weight) to go along with his 5-10 height and 30.75' arms.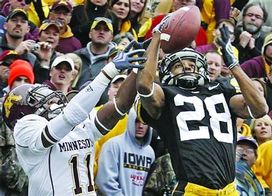 ICONShaun Prater was a three-year starter at Iowa.
Prater lined up at left corner and in the Iowa defense played press man, off and zone coverage. He is an efficient player in all of their coverages. In press he has a good jam to redirect, turns quickly and shows good mirror skills. In both man and zone he shows awareness and anticipation. He has good instincts and is always around the ball. He has good feet and can transition without taking extra steps. He plays the ball well in the air and has good ball skills. He came up with 7 career interceptions. One thing I noticed in looking at 2011 tape was that opponents don't throw his way very often. In three games viewed I think I saw only 5 or 6 passes thrown in his direction.
Prater didn't run at the Combine but plays to about 4.50 speed. He isn't a burner but he has quickness and suddenness to stay with receivers versus moves. While he is a willing tackler he still needs to improve his tackling. He doesn't consistently wrap up and I saw three missed tackles in the games I watched.
Overall, where Prater gets drafted will be determined by how fast he runs at Iowa's pro day. If he can run 4.5 or better then he will be a solid mid-round pick. I don't see him as an early starter but he has the talent to eventually be a No. 2 corner; he needs to still develop his upper body strength and that will help improve his tackling skills.
Mike Daniels
Daniels is a 5th-year senior and a 2-year starter at defensive tackle. He's from Blackwood, New Jersey, and like Prater he was a 2-star recruit out of high school. Also like Prater he was not highly recruited with Iowa and Temple being the major schools to offer. He redshirted his freshman year and played as a backup the following two years.
Daniels is a quick and athletic defensive lineman but he lacks size. He measured 6004 and 291 with 32.5" arms at the Combine. He did not work out at the Combine because of injury but should be ready for Iowa's pro day.
On tape he is an active player with good initial quickness and explosion. He stays low and has quick hands. With his quickness he is able to get penetration and disrupt plays. The thing I like about his play is he is aggressive with a good motor. He plays a lot of snaps yet still goes hard every play. He is instinctive with quick reactions and finds the ball. He is a consistent pass rusher who uses moves and is good at redirecting. He had 9 sacks in 2011 and 15.5 for his career, which is excellent for an inside player. He also had 13.5 tackles for loss in 2011, which is a testament to his hard play.
Overall, because of his lack of size, Daniels may be scheme limited. He is best suited to play in a one-gap scheme like Chicago's. In that scheme he would be a 3-technique player. While he is tough enough to play on the nose, he lacks the bulk that most teams like at the position. Because of his limitations he will probably be a later round pick but he has the talent to play in the league. Early on he should see time as a designated inside pass rusher and rotational player. If he can eventually get to 305-310 without losing quickness he may be able to play some nose in a rotation also. An interesting player but he has limitations; a role player.