March 20, 2012 -
Greg Gabriel
Prospect focus: Keyshawn Martin and Jerel Worthy
A few weeks ago I wrote up Michigan State quarterback Kirk Cousins and wide receiver B.J. Cunningham. Today I will talk about the player who could be the highest draft pick from that school: defensive tackle Jerel Worthy as well as receiver/return man Keyshawn Martin. Both players have seen their stock rise in recent weeks.
Keyshawn Martin
Martin is a 4th year senior and a 2-year starter at the "Z" receiver position. He is also the primary punt return man for the Spartans. Earlier in his career he did both kickoff and punt returns but in the last 2 seasons punt returns has been his main job while still returning some kickoffs.
Coming out of high school, Martin was not a highly recruited player. He was rated as a 3-star prospect with his main offers being Illinois and Michigan State. Still he came in and contributed right away as a return man his freshman year.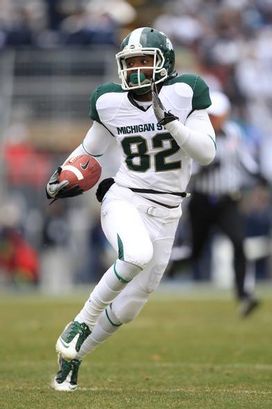 Keyshawn Martin knows how to rack up yardage after the catch.
Martin has average size for a receiver at 5114 and 188 with adequate arm length (31.5) and hand size (9.25). What he has is excellent speed and body control to go along with very good quick feet and flexibility. At the Combine he ran 4.44 and showed excellent explosion with a vertical of 39.5 and a long jump of 10'2." While you don't always see that speed when he is running routes, you do see it when the ball is in his hands. In the Wisconsin game he had a 34-yard run on a reverse for a touchdown where he outran the entire Wisconsin secondary. He shows great acceleration once he touches the ball.
Martin is a good route runner who can find open areas and make quick cuts. Like I said above, you don't always see his timed speed when he is running routes. In the tapes I viewed I didn't see him run by people on deeper routes but he does get open. He has good hands and can adjust to balls thrown behind him. His forte is getting yardage after the catch. He has excellent run instincts which show up in his return work.
Martin shows toughness and courage by consistently competing for balls over the middle
and exposing his body. He is willing as a blocker but not always effective. As a returner he shows the skills to be a primary punt return man. His best years as a kickoff returner were in 2008 and 2009 when he averaged better than 26 yards per return for the 2 years. In 2010 and 2011 he was more proficient as a punt returner. His punt return average over the last 2 seasons is about 13 yards per return. He has 3 returns for touchdowns in his career.
Overall, I see Martin coming in as a returner first and a receiver second. He will eventually line up as a club's second or third receiver. His best position may be the slot because of his run after catch skills and his willingness to compete in traffic. He is a solid third-round pick who some clubs have rated as a 2nd.
Jerel Worthy
The way I hear it, some clubs have Worthy rated as a mid to late first-round pick and others have him as a solid second. He has adequate size at 6023 and 308 with 33" arms. He didn't bench at the Combine, but did 28 reps at his pro day. That equates to about a 420 lb. bench press. Worthy has good speed for a big guy running in the 5.05 area, but his change of direction is just average.
Coming out of high school Worthy was a 3-star recruit with offers from many Big Ten teams as well as Cincinnati and some MAC schools. He redshirted in 2008 and has been a starter since. He could have returned for another year of college ball but elected to enter the draft early.
Worthy lines up at defensive tackle in a 4-3 scheme. While his stats aren't overwhelming he is a solid player. He was credited with 30 total tackles in 2011 to go with 40 total tackles in 2010. He has 7.5 sacks the last two seasons. What Worthy does is disrupt and occupy blockers. He gets off the ball quickly and has good instincts. With his power he is able to occupy two blockers on a consistent basis. While many defensive linemen play in a rotation, Worthy plays a high number of snaps and goes hard every play. He may not make the play but he can disrupt it and is often around the ball..
I wouldn't call Worthy a natural pass rusher: he gets a push, shows he can get off blocks and has an adequate burst to the quarterback. He gets more pressures than sacks. He has fairly good hand use versus both run and pass blocks but like many college defensive linemen he can use improvement. Still he flashed getting off blocks quickly to make plays.
Overall, I feel Worthy is capable of playing multiple positions at the next level. He can play as a 4-3 defensive tackle or can line up at both nose tackle and defensive end in a 3-4. That versatility will get him plenty of playing time as a rookie. Even though I hear he may go in the first I feel he would be better off as a top 10-15 type in the second round.