April 16, 2012 -
Greg Gabriel
Prospect focus: Michigan WR Junior Hemingway
While the top of the receiver class isn't quite as good as it was last year, it still is a deep group and clubs will be able to find good talent available into the 4th and perhaps even the 5th round. One of the players that should be available to clubs is Junior Hemingway from Michigan.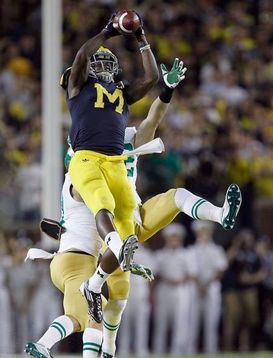 Michigan WR Junior Hemingway.
Hemingway was Michigan's top receiver with 34 catches for 699 yards and 4 touchdowns. Those stats don't look like much, but remember Michigan did not have a potent passing attack. It's a predominantly running offense and while they have a talented college quarterback in Denard Robinson, he is not what I would call a top passer.
He had a fairly strong offer list with schools such as Clemson, Florida St, Miami and Notre Dame recruiting him. He played as a backup in 2007 then got an injury redshirt for 2008 because of mononucleosis. He came back to be a part time starter in 2009 and a fulltime starter the last two season.
Hemingway has good size at 6007 – 225. Yes that seems heavy for a receiver, but he has a thick lower body and that is where he carries much of his weight. He is a very good athlete with excellent change of direction and body control. His agility drills at the Combine were as good as any of the top receivers. While Hemingway is not a burner he has good timed speed (4.50) and plays to that speed.
In the Michigan offense he is used mostly on shorter routes (outs, curls, crossing routes) but will occasionally be used deep. While he has a burst, you don't see him blow by defenders on the deeper routes. He has very good initial quickness and easily gets by jams at the line of scrimmage. On his base routes, he shows very good ability to get in and out of cuts and consistently gains separation.
He has good hands and usually catches the ball away from his body. He shows good ability to adjust to the ball in the air and will make some difficult catches. In all the tape I watched I didn't see Hemingway used deep more than a few times. One of the reasons was they had a poor deep passing attack. As a runner he is quick with some elusiveness. He has the power to break arm tackles and can be tough to bring down. He is average as a blocker.
Overall, Hemingway still has to developing but he has the natural traits to work with. He is a tough and competitive who may be a quality starter by his 2nd or 3rd year. He is a good mid round pick.
Click here to see the NFP Big Board.