April 03, 2012 -
Greg Gabriel
Prospect Focus: Quarterback Brock Osweiler
A name that we have seen a lot of lately as we prepare for the NFL Draft in 3 weeks is quarterback Brock Osweiler from Arizona State.
After his pro day last week, NFL.com and former Dallas Cowboys Vice President of Player Personnel Gil Brandt said that Osweiler could be a first-round pick. A few weeks earlier Todd McShay of ESPN also stated that Osweiler could be a first rounder. With that in mind, I decided to look at the four tapes I had on Osweiler and give my opinion (one of the tapes is from 2010).
Usually when I write up a quarterback, I would like to see at least 6 games to get a good feel for what the player has to offer. With only three tapes from '11, I don't feel as comfortable.
Before we break down his game let's look at who Brock Osweiler is.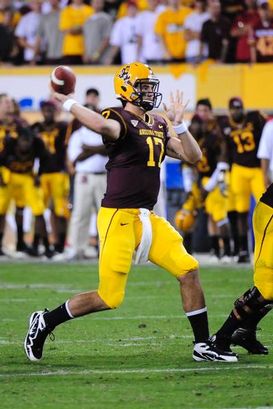 ICONSome teams view Brock Osweiler as a potential first-round pick.
He is a 3rd-year junior from Kalispell, Montana. He was a two-sport athlete in high school and even committed to Gonzaga University to play basketball when he was a sophomore. After his football skills began to flourish he chose football to be his sport in college. Rivals had him rated as a 3-star recruit and he was offered by schools such as Stanford, Washington State and Arizona State. As a freshman he played in 6 games, completing 24 of 55 passes for 249 yards, 2 TDs and 2 interceptions. As a sophomore he played in 5 games, starting the last 2 (both wins) and completed 62 of 109 passes for 797 yards, 5 touchdowns and no interceptions. In 2011 he started all games, winning 5 of the team's first 6 but also losing 6 out of their last 7. For the year he was 326 of 516 for 4,036 yards, 26 TDs and 13 interceptions. He was also sacked 28 times.
Looking at Osweiler's game there are things to like and not like. He is a big guy (at the Combine he measured 6067 and 242). He did not do any of the measurable drills at the Combine and only ran a 40 at his pro day (4.94) so clubs still don't have shuttle times, a long jump or vertical jump on him. On tape he looks somewhat athletic with quick feet and body control. Is a bit of a straight line type when he is running with the ball; he lacks elusiveness and won't make many defenders miss.
He played strictly from a spread formation and I have not seen him take a snap from under center. While many college spread offenses are half-field read offenses, Arizona State's is not. The quarterback has a progression to go through but at the same time it is a very simple offense with basic routes. Like a lot of spread offenses there are many bubble screens and swings passes, giving the quarterback an opportunity to complete a lot of passes.
What I like about Osweiler is he has good arm strength and flashes deep accuracy. He has a fairly quick release and gets fairly good spin on the ball. The one problem with his passes is he often throws a nose down ball instead of the preferred nose up ball. The other thing I dislike and this will be a problem in the NFL is his delivery. For a guy almost 6-7 his release point is like a guy 5-10. He has tight shoulders with a sidearm type delivery. I never once saw him deliver a ball when the release point was any higher than the top of his helmet. While he can get away with that in a spread offense, he won't in the NFL. With that delivery he will have many passes knocked back in his face.
While Osweiler had a good completion percentage at 63 percent this year, his ball placement can be questioned. He seldom put the ball in an area where the receiver can get yards after the catch. On crossing routes he often throws behind the receiver and on swings he throws many that are very low. There are just too many throws that have to be adjusted to.
While Osweiler has some athleticism, he is not real good at extending plays. He tightens up versus pressure and can make some poor throwing decisions. He takes too many sacks and hits for a guy who is as athletic as he is.
The other thing that bothers me is his record. When things are going well he plays good but once adversity comes along he didn't pick up his game. Losing 6 out of the last 7 games is not the sign of a top quarterback.
Overall, Osweiler would have been better served if he stayed in school another year to develop his skills and get play time. He is still raw with only 15 starts. History has shown that spread quarterbacks usually struggle when they get to the NFL (Newton the big exception). Once he gets in the league he is going to have to learn to play from under center and also is going to have to completely change his throwing motion. These things take time and patience and I have seen in the past that when you have to change a quarterback's throwing motion, until it becomes second nature to him he will revert back when pressured in game situations.
While I agree that some clubs may have him rated high and a potential first-round pick, I see it as a mistake. There is too much development needed. I wouldn't want to draft this player before the third or fourth round.