April 24, 2012 -
Greg Gabriel
Prospect focus: South Carolina's Alshon Jeffery
We all know that one of the deepest positions in this draft is the wide receiver position. Teams will be able to draft a quality receiver into the 4th round.
One player who will get drafted in the first two rounds and has as much talent as any receiver in this draft is Alshon Jeffery from South Carolina.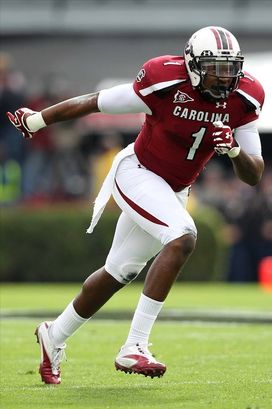 ICONAlshon Jeffery had 49 catches for 762 yards and 8 touchdowns in 2010.
Jeffery is a true 3rd year junior. Coming out of high school he was rated as a 4-star recruit and had offers from such schools as USC, Florida State, Florida and Tennessee. He originally committed to USC before switching his commitment to South Carolina. He started 7 games as a true freshman and led the team in receptions with 46 for a 16.6 yard average and 6 touchdowns. In his sophomore year he caught 88 passes for over 1,500 yards and 9 touchdowns. This past season his production dropped down to 49 catches for 762 yards and 8 touchdowns.
One of the reasons his production dropped was he was overweight, playing at between 235 and 240. On tape from this season he looked like a 4.65-4.70 type and was not consistently able to get separation. When I saw tape from 2010 he was obviously lighter and looked both quicker and faster.
Breaking down his game, he is an interesting player to watch. He has unlimited talent and at times dominates. While he measures 6-3, he plays like he is 6-5 because of his length and leaping ability. He has excellent hands and almost always snatches the ball. He shows very good ability to adjust to the ball and with his excellent flexibility has a very large receiving radius. Though he did not play fast he has good body control, can break down and make sharp cuts. On deep routes while he doesn't get good separation he is open even when he is covered because of his size and receiving radius. In the red zone he is difficult to cover because of his size and he is going to win most jump balls. As a runner after the catch he is not elusive but he shows a burst and is very strong. He does little as a blocker. When you compare his '11 tape to '10 tape you see a slightly faster and quicker player in 2010. When you look at all his tape you come to the conclusion that he is a big, sure-handed possession receiver.
The interesting part is Jeffery did not work out at the Combine but he weighed in at 215, which is what he was back in high school. At his pro day he weighed 212 and his numbers were as good as any receiver in this draft. He ran 4.48, had a 36.5 vertical jump, a 10'2 long jump, a 4.17 short shuttle and a 6.71 3-cone. The question teams are still asking themselves is what Alshon Jeffery are they drafting? The 240-pound receiver they saw last fall or the 215-pound player they saw at his workout. At 215, Jeffery goes from a possession receiver to a legitimate deep threat and with his jumping ability and the way he adjusts to the ball a very difficult player to cover. Off his workout he is a 1st round talent. On tape he is a second round player.
Overall, you have to say Jeffery is a real wild card -- a definite hit or miss prospect. Because of the weight risk I see him going in the 2nd round but if he becomes a "pro" and is able to keep his weight under control then this player can become an excellent receiver in the NFL with No. 1 receiver talents. He can be the type who catches 90-100 passes a year. This will be a interesting player to follow his first few years in the league.