March 02, 2012 -
Greg Gabriel
Prospect focus: two mid-round centers
After last week's Combine I read an article on AnnArbor.com about how Michigan's David Molk felt he was the best center in the draft and anyone who thought otherwise is "stupid." With that in mind, I decided to take a look at Molk and another center in the draft, Georgia's Ben Jones, and break down their play. As we get closer to the draft I will also look at other centers such as Wisconsin's Peter Konz and Baylor's Philip Blake.
David Molk
Molk is a 5th year senior from Lemont, Illinois. He redshirted as a true freshman and has been a starter ever since. Coming out of high school, he was rated as a 3-start recruit and was offered by many of the Big Ten schools as well as Iowa State and West Virginia.
Looking at tape (I saw 4 games), Molks looks like a fairly good player. He has good initial quickness, stays on his feet, plays with strength and finishes blocks. He has quick hands with a strong punch that he uses to control opponents. He keeps his feet moving on contact and can turn and seal off his man. He shows adequate quickness to the 2nd level and takes good angles. His ability to adjust on the move is above average. He has no problem making shotgun snaps. In pass protection he sets quickly and shows fairly good ability to anchor. He has average lateral quickness but I did see him get beat a few times when he couldn't get over to pick up a blitzing linebacker. He moves his feet well, can slide and recover and shows above average ability to mirror opponents. One of the best parts of his game is his competitiveness. He plays hard every down and tries to be physical.
Overall, Molk was a very good college player, but that doesn't always translate to the NFL. At the Combine he measured only 6-0 and 298 with 32-inch arms. Being less than 6-1 makes it really difficult to project his game to the next level. I cannot think of one starting center in the NFL who is that short. In today's NFL most teams like to keep 7 or 8 offensive linemen on the 53-man roster, with 7 dressing on Sunday's. In order to dress, if a player is not a starter he needs to be able to play more than one position. I cannot see Molk being anything other than a center. He doesn't have the required size to play guard. This will hamper his draft status. I would not draft a player this short; regardless of his strength and toughness he still lacks the physical traits to line up and be productive against the type of defensive tackles he will be facing in the NFL.
Will he get drafted? Maybe. Will he make it? Maybe, but I would say he has less than a 50/50 chance. Back in 2007 when I was with the Bears, we drafted a player from Boston College by the name of Josh Beekman in the 4th round. Beekman was just over 6-2 and played at about 315. He had an outstanding career at BC and started both at guard and center. When he got to the NFL he showed his strength and toughness but was limited by his size. He played for a few years and was then cut, and has not been able stick with a club since. In scouting you always use history as a gauge and Beekman had more talent than Molk.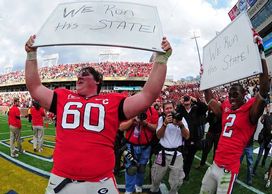 Ben Jones has been a starter his entire career at Georgia.
Ben Jones
Jones is a 4th year senior and has been a starter his whole career. Coming out of high school, he was also a 3-star recruit but wasn't recruited by as many schools as Molk. Still, he had offers from Alabama and Georgia as well as Air Force.
Jones' best attributes are his strength and toughness. He can be a physical player and he consistently looks to finish. Playing in a spread offense, he is excellent with the short snap. He also shows good initial quickness and snap on contact. He stays low and plays with leverage. He is strong in both the upper and lower body and has good leg drive. He has the power to turn and seal off his opponent and can get movement with drive blocks.
While he is not what I would call fast he has good quickness and can adjust on the move. Georgia uses its center in space, asking him to both pull and get out in front of backs on screens. In pass protection he shows some bend and can anchor versus a bull rush. He has the feet and agility to slide and recover and the alertness to help out the other linemen when free. I like his hand use both in the run and pass game.
Overall, because of the way Georgia uses him at center, I see no problem with him being able to also play guard. He lacks ideal height at 6-2 but has good bulk and power to go along with average arm length (32.5). His ability to play more than one position will help him as a young player and could allow him to dress on Sunday as a rookie. I see him eventually being a starting center in the league. He has strong intangibles and a passion for the game. A good mid-round pick with upside.