March 16, 2012 -
Greg Gabriel
Prospect focus: Whitney Mercilus and Nick Perry
A lot of the draftniks have Melvin Ingram listed as a defensive end. While he played down at South Carolina, his size says he will be an outside linebacker probably in a 3-4 in the NFL. His size and arm length (6014 – 264, 31.5" arms) dictate that he could struggle at defensive end unless he plays in the perfect schematic situation. Two other players who many see time as "tweeners" (DE/OLB) will also be high picks in this draft. They are Whitney Mercilus from Illinois and Nick Perry from USC. Let's look at their play.
Whitney Mercilus
Mercilus is a 4th year junior who decided to enter the draft early. He is from Akron, Ohio, and was rated as a 3-star recruit as an undersized defensive end. He was offered by schools such as Syracuse, Michigan State, Kansas and Purdue. He redshirted as a freshman and played as a backup in 2009 and 2010. This past season he got his first opportunity to show his talent and put up some excellent numbers. He had 57 total tackles, 22 tackles for loss, 16 sacks and 9 forced fumbles. The big number here is the 16 sacks. Natural pass rushers are hard to find and that is what this player is.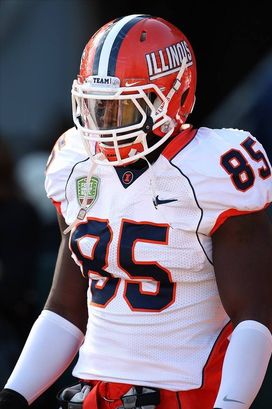 ICONWhitney Mercilus had 57 total tackles, 22 tackles for loss, 16 sacks and 9 forced fumbles in 2011.
Mercilus has good but not great size. He measured 6035 – 261 with 34.88"arms. He has strength (27 reps), speed (4.68) and has excellent change of direction and body control. He is a natural knee bender with quick feet. In Illinois' 3-4 scheme he played on both the right and left sides. He has very good initial quickness and with his quick first step he consistently gets penetration to disrupt plays. While he can be disruptive, he is still raw when it comes to technique. He lacks consistent good hand use when shedding run blocks but in saying that he does use his hands better when pass rushing. Mercilus is a competitive player who doesn't take off downs. What I like is the way he chases plays down from the backside, he has the speed and takes good angles.
As a pass rusher, early in the season he was more an edge speed guy, but as the season wore on he was able to develop some counter moves. He also has the power and snap in his hips to be a productive bull rusher. His natural physical traits of flexibility, power and speed make him difficult to block.
Overall, Mercilus best fits 4-3 schemes as a right end but he has the strength and growth potential to be able to play on the left side. 3-4 teams will like him because he has the athleticism to play on his feet and drop into coverage. In a way he reminds some of Jason Pierre-Paul from two years ago. Pierre-Paul was raw and only played 1 year of major college football, but he was the most instinctive pass rusher I had seen in years. Mercilus has some of those same traits. He lacks the natural size that Pierre-Paul has and isn't quite as instinctive but has many other similar traits. I expect him to be drafted in the top 15 because of that pass rush talent.
Nick Perry
Like Mercilus, Perry is an underclassman entering the draft early. He was a 4-star recruit in 2008 who was recruited by many of the top programs in the country. He redshirted as a freshman and played as a backup in 2009. He has been a starter the last two years and is a bit of a combo player. I saw 3 games from this year (Notre Dame, Stanford, Washington) and he played both up and down. In the Notre Dame game he was a 3-4 OLB on base downs and played as a defensive end on passing downs. In Stanford and Washington he played down most of the game.
Perry has adequate size at 6026 – 271 with 33" arms. He worked out well at both the Combine and his pro day. He can run (4.58) and like Mercilus has very good change of direction and body control. He tests out as a more explosive athlete than Mercilus with better vertical and long jumps but you don't see that on tape. He also was better in the bench press by 8 reps (which translate to 40 pounds) but again you don't see that on tape.
Perry always is on the right side whether or not he is up or down. He is quick off the ball and can get penetration with his quickness, strength and power. He shows power at the point of attack and you seldom if ever see him give ground to a blocker. He has good hand use to shed and get to the play. He is instinctive with quick reactions and finds the ball.
As a pass rusher he has shown production but is not as productive as Mercilus. He had 9.5 sacks in 2011 and 4 in 2010. He is an outside speed rusher first and foremost. He has the dip and bend to get under a blocker and create pressure. What I didn't see on tape is many counter moves; if he didn't beat his man with the outside rush he was finished. He does work stunts well with the defensive tackles. When he plays on his feet he shows many of the same pass rush moves.
When he plays as an OLB he does drop into coverage and shows good quickness with his drop. He can turn his hips and transition. He also shows good awareness. I only saw a few plays where he had to react to the ball in the air and I saw no problem with his reactions in those few plays.
Overall, Perry will interest both the 4-3 and 3-4 teams. Unlike many players that the 3-4 teams have to convert to OLB, that won't be the case with Perry. He has done it! While some 4-3 teams would like a bit more height, he still should be able to play either right or left end in many of those schemes. I don't see the explosive pass rush talent that Mercilus has but still Perry is an excellent prospect who will get drafted high. I see him as a guy who could get drafted in the bottom third of the first or the top of the second round.