August 23, 2011 -
Barry Dorey
Pryor found a good situation in Oakland
In June, when it became apparent that Terrelle Pryor may be in the supplemental draft, I wrote a scouting report on him. I stated that from a pure talent point of view if Cam Newton was good enough to be the first pick in the draft then Pryor was also a first-round talent.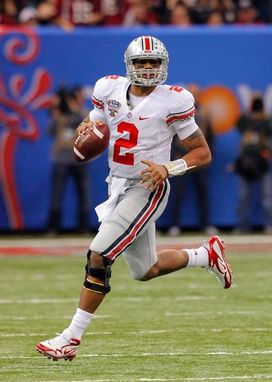 ICONTerrelle Pryor may have found a nice fit in Oakland after all.
Pryor showed at Ohio State and again at his pro day that he is an exceptional athlete. Few have his combination of size and speed. As a quarterback he showed improvement as a passer in each of his three years at Ohio State and on the field he is extremely competitive. While still not as polished a passer as he should be, he has the necessary tools. His arm is very strong, he throws a tight ball and he has very good deep accuracy. When watching tape you can see that he throws to the left and down the middle of the field very well but for some reason can struggle throwing to his right. He lacks patience in the pocket and will often run when under pressure but at the same time because of his speed and innate running skills he is very dangerous as a runner and can and does make things happen.
With that being said, there has been talk that he could be switched to receiver. I don't see that happening, at least not at this time. As it stands, Pryor's rookie year will probably be a wash. He can only practice for two more weeks before he has to start serving a five-game suspension. This is not a typical league suspension. He can still attend meetings and can watch practice, he just can't take part in practice. It has also been said that his coaches can work with him in an individual one on one situation as long as it's not during regular practice periods. This will give him time to know and understand the Raiders offense.
The Raiders took a chance on drafting Pryor because of his situation both at Ohio State and the league suspension, but I believe it may pay off for them. There is always a right team for a player to go to and in this case I feel that Oakland is the right team. While the Raiders have been burned by players who have had character questions in the past they have also had success. With Hue Jackson as his coach, Pryor will have a strong-minded and well-respected coach to work with him. Jackson understands offense and will know how to best utilize Pryor's talents. Because of Pryor's unique athleticism it wouldn't surprise me if the Raiders use him in a variety of roles while he is mastering the quarterback position. He could be used in "Wildcat" formations and used some as a situational receiver but I feel his future is at quarterback. Pryor is a smart, street-wise kid. He should have no problem learning what he has to — the question is will he apply himself to learn everything? Can he and will he become a pro or will he "bust" like many others who have had great talent and no football character? Many have an opinion and I have mine.
With Jackson as his coach, I think the answer is yes.