August 10, 2014 -
Greg Gabriel
Recapping Johnny Manziel's pro debut
The way the media covers Cleveland Browns quarterback Johnny Manziel, you would think he was the first pick in May's draft rather than the 22nd overall selection. Everything Manziel does from the gridiron to the nightclub is reported in the press. The reality is that it's very unfair to the player, as no other draft choice has come under so much scrutiny. Joe Namath and Brett Favre are lucky they weren't young players in this digital age. There is no telling how their careers would have turned out if every move they made was covered by the press.
Manziel made his NFL debut Saturday night in Detroit and although he did not start the game, the Heisman Trophy winner did take the field with about 7:30 remaining in the first half. Manziel didn't play with the starters, as his offensive line and skill players were all backups.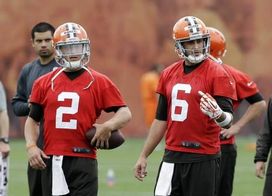 The battle for the top spot in Cleveland is heating up after Saturday night's first preseason game.
Overall, I thought Manziel performed well. He played in five series, though his second "series" consisted of just one play as he took a knee to run out the clock to end the half. For the game, Manziel completed seven of 11 passes for 63 yards. He threw no touchdowns or interceptions and had two passes dropped. He also had a throw that looked like a completion for a first down, but the receiver was ruled out of bounds. As a runner, he had six carries for 27 yards.
What was impressive was Manziel's poise and overall command of the huddle. He did not look like a rookie during his first NFL action. He performed mostly from the pistol or spread formation, but there were some plays from under center as well.
What I was most impressed by was Manziel's quick decision making. He would take the snap, make a quick read and get the ball out of his hand. He showed a very quick release and a strong arm. He has excellent velocity on his throws and threw a tight ball. His accuracy and ball placement were very good and there was only one throw that sailed and was uncatchable.
For the most part, Manziel never got past the second receiving option and often threw to his first option. Just like during his time at Texas A&M, if the primary and secondary receivers were covered, Manziel took off running. As a runner, he was effective showing speed, quickness and some elusiveness. On one play in his first series, the play could have very well gone for a five or six yard loss, but Manziel's speed and athleticism got the ball back to the line of scrimmage.
The Browns used some read option when Manziel was in the game and it was an effective weapon. Manziel had some good gains with the read option, but the running game as a whole was average playing behind the second line. I would like to see how effective Manziel could be running the option behind the first line. With his suburb athleticism, the read option can put a lot of pressure on the defense and open up the passing game.
The Browns don't play again until August 18, so with seven days to practice it would not surprise me if we see Manziel work with the first unit in Cleveland's second preseason contest. Being that it's a nationally televised game on ESPN, you know they (ESPN) would love to see Manziel play more.
Overall, Manziel had a strong showing in his first game. If he wants to be a starter this year he needs to build on this opening performance. I did not see any glaring mistakes in this game, so if he shows improvement over his first performance, it may be tough for the Browns to keep him on the bench.
Follow Greg on Twitter: @greggabe