July 22, 2011 -
Barry Dorey
Recruiting breakdown of 2011's top draft picks
Last year I wrote a piece about the ratings of premium picks in the draft when they came out of high school. Were they highly rated 4 and 5-star type players or were they thought of as just "average?" When I was a scouting director, this was something I did all the time because I wanted to know who the good prospects were as high school players. Were they highly thought of or were they kids who developed while in college? It's always an interesting exercise, so I decided to do it again this year. As a group, I think this year's first and second-round picks were a little higher-rated than last year's. But as with every draft, there were some "no names" who developed into fairly good players/prospects.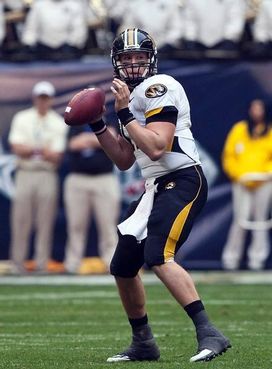 ICONBlaine Gabbert was a five-star recruit coming out of high school.
In the first round, there were seven players who were rated as 5-star prospects out of high school. The first pick in the draft, Cam Newton, who originally went to Florida, was highly rated. Blaine Gabbert of Missouri was the other quarterback rated as a 5-star. At the receiver position, A.J. Green (Georgia), Julio Jones (Alabama) and Jonathan Baldwin (Pitt) were also 5-star players. As you may recall, all three of those players were highly productive as freshmen. Tackle Tyron Smith (USC) was the only offensive lineman rated as 5-star player while in high school. On defense, the only player who got the coveted 5-star rating was corner Patrick Peterson (LSU).
In the second round, three players had a 5-star rating. They were defensive linemen Da'Quan Bowers and Marvin Austin and tight end Kyle Rudolph. All three of those players could very well have gone in the first round if it weren't for circumstances. Rudolph and Bowers had injury concerns and Austin missed the 2010 season with an NCAA suspension.
The first round had twelve 4-star players. Two of those got the high rating coming out of junior college — tackle James Carpenter of Alabama and guard Danny Watkins of Baylor. Neither of those players was as "coveted" coming out of high school. In fact, Watkins had no rating because he was a Canadian kid who didn't play high school football!
The other 4-star rated players taken in the first round were Von Miller (Texas A&M), Jake Locker (Washington), Robert Quinn (North Carolina), Mike Pouncey (Florida), Corey Liuget (Illinois), Adrian Clayborn (Iowa), Phil Taylor (Taylor originally signed with Penn St), Cam Heyward (Ohio State), Derek Sherrod (Mississippi St) and Mark Ingram (Alabama).
The second round also had a large number of 4-star players. They were Ras-I Dowling (Virginia), Aaron Williams (Texas), Ryan Williams (Virginia Tech), Lance Kendricks (Wisconsin), Stefan Wisniewski (Penn St), Marcus Gilchrist (Clemson), Shane Vareen (Cal), Akeem Ayers (UCLA), Rahim Moore (UCLA), Jarvis Jenkins (Clemson), Orlando Franklin (Miami), Greg Little (North Carolina), Brandon Harris (Miami), Jonas Mouton (Michigan), Marcus Gilbert (Florida) and Daniel Thomas (Kansas St and rated coming out of junior college). What all this means is that 32 of the 64 players taken in the first two rounds were 4 or 5-star players. When colleges recruit a player of that caliber, they almost expect him to develop into a top NFL prospect, but in reality with only half of the players drafted in the premium rounds being 4 or 5-star it is a disappointment. Why? Because the other half of the players drafted were rated more as average players when they graduated from high school, but turned into great players. As I have been saying for a while, the accuracy of rating high school players is not very good.
The first round had eleven players who were rated as 3-stars in high school and two who were only 2-star prospects. These guys may not have been highly recruited or thought of as high school seniors but they became top prospects.
The first round 3-star players who were drafted on the defensive side are: Marcell Dareus (Alabama) who became the 3rd player drafted, Aldon Smith (Missouri), Nick Fairley (Auburn), Ryan Kerrigan (Purdue), Prince Amukamara (Nebraska), Cam Jordan (Cal), Jimmy Smith (Colorado) and Muhammad Wilkerson (Temple). On offense the players were Christian Ponder (Florida St), Nate Solder (Colorado and rated as a tight end) and Gabe Carimi (Wisconsin).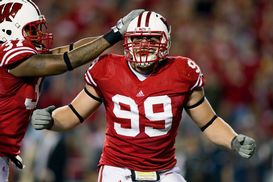 ICONJ.J. Watt was only a two-star recruit when he landed at Wisconsin.
The players who were "no names" and got only 2-star ratings were J.J. Watt (Wisconsin) and Anthony Castonzo (Boston College). Watt originally went to Central Michigan as a tight end and transferred to Wisconsin. Castonzo was a small offensive lineman who first went to prep school after high school before being recruited by B.C. and was less than 250 pounds when he finished playing in prep school!
Andy Dalton, the highly respected quarterback from TCU, was the first 3-star drafted in the 2nd round. He was followed by quarterback Colin Kaepernick of Nevada. The other offensive players who earned 3-stars were: Titus Young (Boise St), Rodney Hudson (Florida St), Mikel LeShoure (Illinois), Torrey Smith (Maryland) and Randall Cobb (Kentucky).
On defense, defensive end Jabaal Sheard (Pitt), Bruce Carter (North Carolina), Brooks Reed (Arizona) and Stephen Paea (Oregon St) were 3-star players. There were two players taken in the second who had 0-stars or no rating as high school players. Oddly both played their college football in the Philadelphia area —Ben Ijalana (Villanova) and Jaiquawn Jarrett (Temple).
When I read the message boards on the college recruiting websites, I always see how alumni or followers get upset when their school signs a player who was "only" a 2-star or 3-star player. They should trust the judgment of coaches because these players can turn into great college players and be coveted premium NFL draft choices!