January 13, 2012 -
Greg Gabriel
Reiff and Kalil headline draft's offensive tackle class
Two of the better offensive tackles — if not the best — in next April's NFL Draft will be two juniors who have recently declared for early entry. They are Riley Reiff of Iowa and Matt Kalil of USC. I had four tapes of each player and yesterday I watched all of them so I was able to do a fair comparison of the two players. Here are my thoughts.
Riley Reiff
Reiff is a fourth-year junior and a three-year starter on the Iowa line. He is from Parkston, South Dakota, and played tight end and defensive end in high school. Coming out of high school both Rivals and Scout had him rated as a 3-star defensive end and was mainly a regional recruit having been offered by Iowa, Minnesota and Nebraska. He redshirted his freshman year as an offensive lineman and then cracked the starting lineup in 2009 as a redshirt freshman. That year he had starts at both left and right tackle as well as left guard. In 2010 and 2011 he played only left tackle. Last year when I was watching tape on Ricky Stanzi, Reiff jumped out at me so I was anxious to see how he played this year.
Reiff plays from both from a 2-point and 3-point stance and shows excellent snap reaction and initial quickness. Though he is a tall guy at about 6-6 and 305, he has an even cut body with good arm length and is a natural knee bender. He is very athletic, shows some speed and can play in space. He plays with good strength and power. In the run game he comes off the ball low and is explosive on contact to generate movement. He keeps his feet moving and he is a consistent finisher. He takes good angles to the second level and on the few plays that he pulls he shows that he can adjust on the move to make a productive block. In pass protection, he can set quickly and is very patient. He does an excellent job keeping his hands inside and shows a strong punch and can quickly recoil. He has excellent lateral agility and recovery allowing him to mirror speedy defensive ends and linebackers. You seldom see him get beat by a counter move. With his natural bend he shows a consistent anchor and doesn't give ground to bull rushers. He has excellent awareness and easily picks up stunts and blitzes. Overall, Reiff has the talent to be a rookie starter in the league. He has the athletic traits to play left tackle and be a very good one. Assuming he has no medical issues he will be a high first-round pick.
Matt Kalil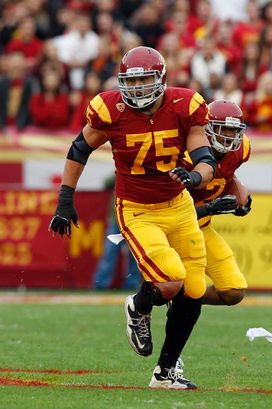 ICONMatt Kalil comes from a strong football background.
Kalil has a little different background then Reiff. He played his high school football in the strong leagues of Southern California. His dad was a draft choice of the Buffalo Bills and his older brother Ryan is a Pro Bowl center for Carolina. While Reiff was a 3-star player, Kalil was a 5-star athlete and recruited by all the top programs in the country. Like Reiff, he was redshirted in 2008. He played as a backup in 2009 and has been a starter at left tackle the last two seasons.
Physically, Kalil is a high-cut player with long arms. While he shows he can bend he has a tendency to play tall. His upper body strength is excellent but he still needs to develop his lower strength. Comparing him as an athlete to his former USC teammate from a year ago Tyron Smith, it isn't close. Smith is a far superior athlete and may be the most athletic tackle in the NFL. While Smith is a better athlete, Kalil is more physical and plays with a nasty disposition.
The first game I watched on Kalil was against Notre Dame and in the first half he struggled some versus Notre Dame defensive end Kapron Lewis-Moore. In the run game, Kalil's legs buckled a few times and he fell off the block and Lewis-Moore was able to beat him with both a counter move and an outside move to get pressure on the quarterback. In the other games viewed Kalil was much better (Stanford, Washington and Cal)
His overall play in the run game is solid. While he has a tendency to get tall, he still gets movement because of his upper strength and nasty attitude. When he can put his opponent on his back he will do it. He can be a bit inconsistent getting to the second level because he doesn't consistently break down and adjust to a quick move. I saw him whiff a few times in space. In pass protection he has a very strong punch that he uses to jolt his opponent. Except for the Notre Dame game, I didn't see him get beat by counter moves and his overall mirror skills were good. Because he gets tall he sometimes has to reset his feet so he won't give ground versus a bull rush but still his anchor ability is good. Like Reiff he is a very alert and aware player. He has an added benefit of being an excellent Field Goal/Pat blocker. He has had a number of blocked kicks in his career.
Overall, Kalil will be a high pick. Because he has a tendency to play tall, I would want to work him out to see just how good his lower body flexibility is. Though there are lesser athletes playing left tackle in the NFL, his best position may be on the right side where he could become a dominant player. If I had to choose today without the knowledge of the combine, medical exams and a workout I would choose Reiff over Kalil. Reiff may not be as nasty but he is a better athlete with a stronger and more consistent overall game. Both will become excellent NFL players and start early in their careers.