September 12, 2014 -
Greg Gabriel
Reversing the trend
In June I wrote an article for the National Football Post on whether or not there would be a running back capable of being selected in the first round of the 2015 NFL draft. At that time I felt there wasn't. However, through the first two weeks of the 2014 college football season, my thoughts have changed. Todd Gurley from Georgia has shown improvement in his play so far this year and he just may be worthy of being the first back selected in the first round since 2012.
Todd Gurley – Georgia
Gurley has had an impressive career to date at Georgia. He is a third-year junior who has been a starter since he walked on campus. As a freshman in 2012, Gurley ran for 1,385 yards on 222 carries for 17 touchdowns. He followed that up in 2013 with 989 yards in 165 attempts with 10 touchdowns. As a receiver through his first two seasons, Gurley has notched 53 receptions for a total of 558 yards and five touchdowns.
Gurley is listed as being 6'1 – 225 and he is all of that in a well-built, powerful frame. Georgia has only played one game so far this year and that was against Clemson. In that game, Gurley ran for 198 yards on just 15 carries and scored three touchdowns.
In June, I said that I felt Gurley had good, but not great, initial quickness and ran tall inside. I felt that while he had outstanding power, he was not a real powerful inside runner in short yardage situations. Part of the reasoning for that was how tall he runs. In games viewed from 2013, Gurley failed on numerous occasions to get the tough yards on third or fourth and short.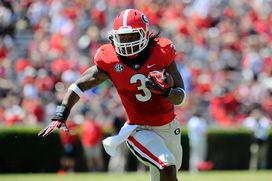 Gurley shredded Clemson for 198 rushing yards and three touchdowns in the opener.
In the Clemson game, he didn't have to get the tough yards, but again the power he flashed in the open field was outstanding. What jumped out at me in the Clemson game was that Gurley looks a bit leaner this year. He also looks faster and quicker. While his quickness to the hole is better, he is also a bit more patient waiting for his blocks.
Gurley is not an elusive quick cutter, he is more of a one cut, north-south runner. While he still runs tall, he is better at lowering his body on contact to get extra yards. In the open, there were plays when defenders bounced off of him.
Once in the open field, his speed is noticeable. While he may weigh 225 pounds, Gurley can outrun many college defensive backs. In June I felt his play speed was in the 4.58 area. Just looking at the Clemson tape, he is playing about a tenth of a second faster this season. In football, that's a huge difference.
Gurley only had one reception against Clemson, but has demonstrated in the past that he is a good receiver out of the backfield. Like most college backs, he needs work on his pass protection.
The other thing Gurley does well is return kickoffs. In the opener he had a 108-yard touchdown return. On paper, that looks great, but when you watch the return, the play was a touchdown before Gurley reached his own 20-yard line. The Clemson kick coverage was awful and they left the entire middle of the field open. By the time Gurley hit the 20-yard line he had multiple blockers in front of him and no defenders in the vicinity. Anyone would have scored on that return. Still, I like his explosiveness through the wedge. He doesn't wait, he just goes.
The player in the NFL that Gurley can be compared to is Seahawks running back Marshawn Lynch. Lynch is more sudden and elusive inside than Gurley, but both have that open field power that few backs possess. Once Gurley gets going he is extremely difficult to tackle. If he can learn to run with better lean and power inside he will be tough to stop in the NFL.
While I know he has played only one game in 2014, it was against a quality opponent and he came up big. If he continues to play like that, Gurley will easily be a first round pick next May should he decide to enter the draft.
Follow Greg on Twitter: @greggabe