September 20, 2014 -
Greg Gabriel
Saturday's top prospects to watch
Now that we've entered the fourth week of the college football season, many of the top teams are beginning to play some quality opponents. With these types of matchups we will find out who the elite teams in the nation really are. Playing FCS schools and teams from the lower levels of Division I don't really tell us much.
As far as scouting is concerned, you want to see a top prospect play against good players. When looking at tape, scouts will discount the looks against inferior players. The main thing you get out of these matchups is athleticism and technique. When a prospect can play against another good player, it paints a much better picture of him.
Saturday's best games as far as seeing good prospects playing against other good prospects include Florida-Alabama and Florida State-Clemson.
Florida-Alabama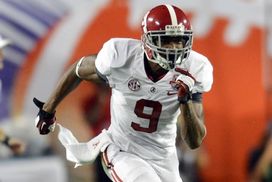 US PRESSWIRECooper has been terrific for the Tide this season.
As we have seen by the number of players selected in the premium rounds over the last few years, Alabama is always loaded. This year is no different.
On offense, the top prospects are receivers Amari Cooper and Christion Jones, running back T.J. Yeldon and guard Arie Kouandjio.
Through three games, Cooper has amassed 33 receptions, while Jones has recorded nine. Yeldon rotates with Derrick Henry and has picked up 225 yards for a 5.8 yards per carry average. Kounandjio is a mainstay on the offense line at guard.
On defense, linebacker Trey DePriest and defensive back Landon Collins are the top guys to evaluate.
Florida always seems to recruit well, signing some of the best high school players in the state, but in recent years they haven't done a good job developing those players. Florida doesn't have a single senior that was rated as a premium round player entering this season.
The top seniors on offense are tackle Trenton Brown and receiver Quinton Dunbar. On defense, the top guys are tackle Leon Orr and linebackers Michael Taylor and Neiron Ball.
Looking at the game, Alabama is once again the class of the SEC while Florida appears to be struggling. I can see Bama winning easily.
Florida State-Clemson
Entering the 2014 season, FSU quarterback Jameis Winston looked to be the top signal-caller in the country. While that still may be the case, his character questions have lowered his stock and he won't play Saturday due to a suspension.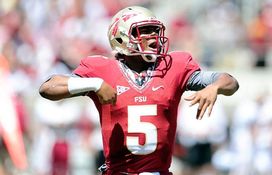 Winston's stock continues to fall following the news of Saturday's suspension.
The other top senior prospects on the Florida State offense include guard Trey Jackson, tight end Nick O'Leary and running back Karlos Williams. Others to keep an eye on are guards Bobby Hart and Josue Matias, receiver Rashad Greene and tackle Cameron Irving.
On the defensive side, junior defensive end Mario Williams gets a lot of publicity, but isn't the prospect some think he is. Some analysts have tried to compare Williams to Jadeveon Clowney, but that comparison is way off base, as Clowney and Williams are two entirely different types of players. Another to watch on defense is safety Tyler Hunter. Junior linebackers Terrence Smith and Reggie Northrup are also interesting prospects.
Clemson has a defensive player who is one of the best defensive prospects in the country. Vic Beasley is listed as a defensive end, but he will be an outside linebacker in the NFL. He is a perfect fit for the 3-4 teams and will get drafted high. Inside linebacker Stephone Anthony is also highly regarded. He can play in either a 3-4 or 4-3 scheme.
Had Winston been able to play, I felt Florida State would win this game easily. Now that Winston won't be playing, directing the offense falls on sophomore Sean McGuire. McGuire has thrown all of five passes this season and the pressure may get to him. I'm taking Clemson in a close one.
Follow Greg on Twitter: @greggabe