February 25, 2011 -
Greg Gabriel
Scouting Defensive Backs
When we talked about defensive linemen and linebackers, we discussed how the scheme a team uses plays a big role in the types of players clubs draft or sign. Clubs always look for players that fit their scheme. When scouting defensive backs, fit is still important, but size and body types don't play as big a role as they do defensive linemen and linebackers. With that said, there are still different skills players need to fit what teams are looking for. For this discussion we will focus on the general traits corners and safeties need.
Corners

Just as with wide receivers, speed is the most important trait in grading a corner. It is a stop watch driven position. A prospect may be a great college player but if he runs a 4.6 40, chances are he isn't getting drafted high and may not get drafted at all. Most teams want their corners to be sub 4.5 types and if you can find a guy who runs a sub 4.4 that's better.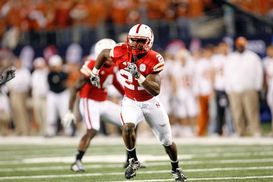 ICONNebraska's Prince Amukamara.
Corners have to be excellent athletes with great feet, change of direction, body control and loose hips. Scouts look for players who have a quick back pedal, stay low and can flip their hips without losing much speed. They also have to transition very quickly. By this I mean going from a pedal to closing on the ball. The quicker a player is in transition can mean the difference between a pass completion and a pass breakup or interception.
The ideal corner can play press, off and zone coverage equally well. The problem is there aren't many of those guys around. Most players are better in one skill than another. Many taller corners can have some trouble in off coverage because of their size. The shorter compact guys with great suddenness seem to be the types that play all three coverages well. A good corner also has to have instincts. They have to be quick thinkers who can recognize things instantly and make the adjustment. They also have to have great ball skills. This goes for safeties also. Ball skills encompass two things: reaction to the ball in the air and hands. Many scouts don't emphasize interceptions as much as I do. Sure, it's great to get your hand on the ball and get a breakup but it's better to get an interception. With a breakup the offense still has the ball; with an interception the offense loses the ball. There have been many times over the years where I have seen a DB make a good play on the ball and get a PBU, but then the offense scores a few plays later.
Size is an important trait but is not as important as skill. Still, most teams want their corners to be 5-10 or taller. That's not to say that a 5-9 type can't be a great pro, he can be — he's just not the prototype. Long arms are important also. With longer arms, you can make more plays on the ball and it can be easier to jam a receiver. Tall corners with great speed, athleticism, body control and instincts are rare. You don't find many of those guys in the league, and the ones that have all the traits make BIG money.
The last thing I will talk about when discussing corners is toughness. By that I mean both mental and physical toughness. Corners have to be good run support players who can take on and shed blocks and be sure tacklers. Those who shy away from contact don't last long in the league. Mental toughness is important because good corners have to have short memories. They are going to be beat at times and when they are, they have to be able to instantaneously forget about it and come back the next play. Confidence is also part of mental toughness and the confidence can border on cockiness. A top corner believes he can shut down any receiver.
Safeties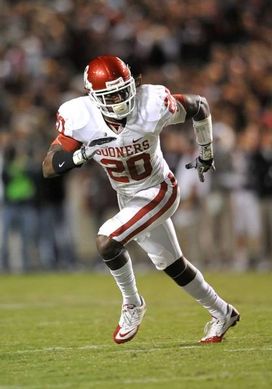 ICONOklahoma's Quinton Carter.
When scouting safeties you look for many of the same traits as a corner but to a lesser degree. For the most part, safeties are bigger then corners. Ideally you would like the prospect to be 6-0 to 6-2, but there are plenty quality safeties in the league who are under 6-0. Most teams would like some bulk on the safeties also, with the ideal range being in the 210-220 pound area.
As a group, safeties are not as athletic as corners but still scouts look for a high degree of athleticism. If you can find a safety with corner athleticism, it's a plus because the team will be able to do more with that player. The ideal player would be a guy with corner cover skills and linebacker toughness, but reality is there are very few of that type around. Last year, two players who came close to fitting that description went in the first round and they were Eric Berry of Kansas City and Earl Thomas of Seattle. Most teams don't require their safeties to be as fast as their corners but still they need speed. If a player is in the 4.5 - 4.55 range that can be more than acceptable but a sub 4.5 is what you really want. Both of those players had corner-like cover skills to go along with excellent run support and tackling ability.
Safeties have to have top instincts, they have to react quickly and get to the play. They need to be very alert in zone and have the range to get to the sideline. Their balls skills need to be equal or better than corners, and they have to be physical players. Being in the middle of the field, the safety is involved in a lot more plays than a corner.
If a scout can find a safety with real good man cover skills, the player will seldom be off the field. It gives the defense flexibility because that player can be put in man to man on the slot receiver or he can be very effective when the defense has to double up on a receiver.