February 18, 2011 -
Greg Gabriel
Scouting Defensive Linemen
Scouting defensive linemen for today's NFL has come down to knowing and understanding your team's scheme. On defense, more so than on offense, how a player fits the scheme is very important.
There are some players that are great fits for a 3-4 scheme and others who fit the 4-3 scheme but the chances of them being productive in both schemes is unlikely. While I was in Chicago, we ran a Tampa 2-type defense, so we looked for defensive linemen who could play in that scheme and perform well. There were some players that were great college football players but there was no way they were going to fit that type of scheme. Case in point would be Terrence Cody of Alabama last year. He is a huge, wide body who is great at occupying blockers and stopping the run. He does not have much speed and will never be a great pass rusher. He is best as a 3-4 nose tackle and was drafted to be such a player by Baltimore. He is an excellent pick for that defense. With that in mind, I will try to loosely define what teams look for when scouting defensive linemen. One thing is certain when you look for defensive linemen: they have to be tough, nasty people. By definition you are asking them to be in 60-70 5-second street brawls a game. It is not a position for a choir boy. If his personality is a bit on the rough side, that's fine with me.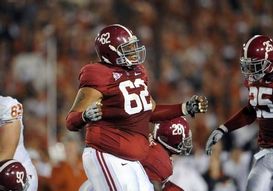 ICONFormer Alabama star Terrence Cody was drafted by the Ravens.
Nose Tackle
Many schemes, be it a 3-4 or a 4-3, use a nose tackle but what they look for is different. In many of the 3-4 defenses the nose is a huge man whose main job is to occupy blockers and stop the run. In an ideal world you would probably want a guy who is 6-2 to 6-4 and weighs 310 to 340 pounds. He has a wide base, long arms and great balance. He ideally would have good bend and because of his lower body power he can be very tough to move. You want a guy who is quick off the snap, has the instincts to find the ball quickly, gets penetration and is disruptive. If he is going to be a 3-4 nose then it is imperative that he is a good 2-gap player. In some 4-3 schemes, he is more of a 1-gap player and has to be more athletic. Many of these types of players are not good pass rushers. When they are used to rush their main job is to get a push and collapse the pocket.
Defensive Tackles
To keep this simple, I could say that the traits of a 3-4 defensive end and a 4-3 defensive tackle are similar. They are big men who are powerful enough to occupy blockers yet quick enough to provide a pass rush. A scout would generally look for a player who is between 6-3 and 6-6 and weighs in the 295 to 340-pound area. Great strength and power goes without saying. They need to be more quick than fast, have good snap reaction and the quick first step to penetrate. Excellent hand use is imperative. Top defensive linemen shed blocks very quickly. They have to have excellent lateral agility and be able to clear piles and move through trash. Like all defensive positions they have to have top instincts, they have to instantaneously react so they can get to the ball. At the same time they have to have the mental discipline to play within the scheme and not break their primary responsibility. Just as hand use is imperative, so is balance. Defensive linemen have to keep their feet — you can't play the game on the ground!
The best defensive tackles are top run stoppers and pass rushers. Quick hands, excellent body control and change of direction are traits of good pass rushers. They usually have great quickness off the ball to gain advantage against the blocker and can redirect their charge very quickly. They also have to have a good burst to the quarterback coming off a block.
Defensive Ends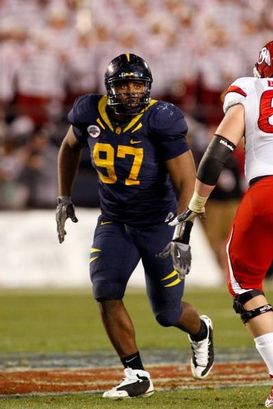 ICONCal DE prospect Cameron Jordan.
This is the position where there is probably the biggest difference when scouting players for a 4-3 or a 3-4. Many defensive ends that are great fits for a 4-3 can't play in a 3-4. The 3-4 teams will work these players out as outside linebackers. Every year at the Combine there are probably 20–25 players that work out as both defensive linemen and linebackers. The 3-4 teams want to see if they can have the athleticism to drop into coverage, turn their hips and run and be able to transition to break on the ball. If they are able to do these things then they have value to teams who run both schemes. These players that fall into this category are the "tweeners" who are usually 6-3 to 6-5 in height and 245 to 265 in weight. These players usually have good speed and are highly athletic.
The pure 4-3 defensive end can be that same size and even heavier. The common trait is that they are top pass rushers. Excellent pass rushers are worth their weight in gold. Every team wants them and that's why they go as high as they do in the draft. A premier pass rusher is a difference maker.
Speed is obviously a required trait but there have been many top pass rushers through the years who had average speed but also had great quickness and body control. Leslie O'Neal, who was a 6-time Pro Bowler for San Diego and Kansas City, was no faster than 4.9; Michael Strahan was a 4.8 guy when he came out of Texas Southern. The one common denominator that I have found with great pass rushers is long arms and excellent hand use. With long arms the pass rusher has a leverage advantage and put that together with excellent ability to use his hands and you have a guy that's tough to block! Top pass rushers are also relentless players who are highly competitive and refuse to be blocked. I am a firm believer that the good pass rushers not only have the physical traits but they also have the mindset to be great!
Want to work in the NFL? Click here to sign up for the NFP's "Chalk Talk at the Combine" Seminar February 25 in Indianapolis.