February 22, 2011 -
Greg Gabriel
Scouting Linebackers
Just as when we talked about defensive linemen last week, scouting linebackers has much to do about scheme. Many outside linebackers in a 3-4 defense could play defensive end in a 4-3. Their ability to drop and their instincts in coverage will have a lot to do with that ability. For the purpose of this discussion, we will talk about linebackers in general and then the traits needed to play linebacker in the different schemes.
In my opinion the most important trait a linebacker has to have is instincts. He has to be able to read quickly while on the move and get to the ball. In most cases, the leading tackler on a defense is a linebacker and while many linebackers have a lot of tackles, you want those tackles to be made at or near the line of scrimmage, not downfield. If a linebacker has a high number of tackles that means he has the ability to shed blocks quickly. To do that he has to have quick hands and great blocker anticipation.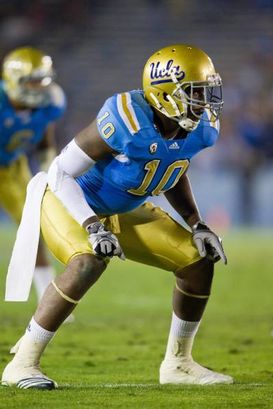 ICONUCLA outside linebacker Akeem Ayers is a projected first-round pick.
Linebackers have to be very athletic. That includes very good change of direction and balance. The have to have quick lateral movement and be able to clear their feet moving through trash. As with most positions on the field, linebackers have to have excellent speed. Different schemes have different speed requirements, but everyone would love a linebacker who could run between 4.55 and 4.65. Ideally, 4.65 to 4.75 will work for many different defenses. More important than timed speed is play speed and that is tied in with instincts. There are not many who would argue that last year's rookie Brandon Spikes played fast, but he was able to do that because of his great instincts and anticipation. Reality is he is a 5.00 type but he plays mush faster then he times.
Over the years most great linebackers have been strong leaders and have a nasty disposition on the field. Just look at Lawrence Taylor, Harry Carson, Carl Banks, Pepper Johnson, Brian Urlacher and Lance Briggs. These are all players I've been around in my years scouting with the Giants and the Bears. All were/are very smart guys who can lead verbally and by example and are extremely aggressive players. Their ability to make big plays with big hits has a way of motivating a team. Lawrence Taylor is the best football player I've ever been around and what he could do on a field made every other player better.
Pass coverage skills are very important when evaluating linebackers. They need the speed and suddenness to mirror backs and tight ends in man coverage. In zone, instincts and awareness are required. He has to be able to get depth with his drops, have the loose hips to turn and the burst to run with most backs and tight ends. He has to be able to plant and drive in transition to make plays on the ball and of course he needs good hands.
As I said above, the different schemes have different size requirements. For example, in the Tampa 2 defense we ran in Chicago, size was not as important as speed and quickness. The ideal player would be 6-1 to 6-2 in height and weigh about 235 to 245 pounds. As far as speed, the faster the better, but the player also had to have outstanding instincts. In some other 4 -3 schemes, the clubs may want a little bit more size. Good pass rush traits are also a necessity in some schemes.
In the 3-4 defenses, clubs almost always look for size. It's not unusual for a typical inside linebacker to be 6-3 to 6-4 and weigh 250 to 260 pounds. Over the years I've seen that many of the inside 'backers in a 3-4 don't have as much speed as 4-3 Mikes are almost always bigger. Many of the 3–4 teams draft inside linebackers that run in the 4.7 to 4.8 range. The inside linebackers in the 3-4 schemes have to be excellent run defenders. In many cases one or both of these players are replaced in the nickel and dime defenses but still if they have good coverage skills it becomes an added benefit.
The big difference between the two main defenses is with outside linebackers. In most cases, the 3-4 teams look for small defensive end types who have very good pass rush skills. Many of these teams look for players that are 6-2 to 6-5 and weigh in at 250 to 265 pounds. This week at the Combine, there will probably be 15-20 defensive ends that will work out both as defensive ends and linebackers. They won't stay and work out with the linebackers, but when they are finished doing the D-line drills they will do 4 or 5 linebacker drills. Many of these drills are used to see if these smaller defensive linemen can drop into coverage, transition and break on the ball. The scouts and coaches will study their movement and flexibility to see if they have the physical traits to play on their feet. If these players prove they have the skills to play in a 3-4 it will increase their value on draft day.
Want to work in the NFL? Click here to sign up for the NFP's "Chalk Talk at the Combine" Seminar February 25 in Indianapolis.