February 16, 2011 -
Greg Gabriel
Scouting Running Backs
About six years ago, I did a study on the effect rookie running backs and receivers had on their teams as rookies. What I found out was there are many more running backs that have an impact as a rookie as compared to receivers. Except for a few freaks of nature such as Larry Fitzgerald, on average it's usually the receiver's third year before he is a consistently good contributor but there are many first and second-year running backs that are consistently productive. Why? It's the learning curve and nuances of the game for the receiver. The NFL passing game is very complex and it takes a few years before many receivers are comfortable. For the running back it's more instincts and physical traits. If he can learn the offense, then he's ready to go. The one holdup can be in pass protection — that is why many young backs are replaced by a vet in obvious passing situations.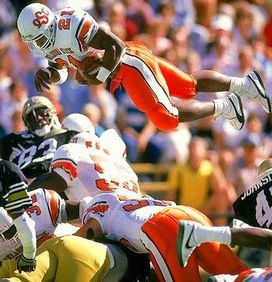 Barry Sanders may not have had the measurables, but he went on to become a Hall of Fame back.
While they may be ideal size requirements for linemen, that is not the case with backs. The coordinator and the scheme a team runs has a lot to say on the size of the running backs a team looks at. There have been Hall of Fame backs like Emmitt Smith, Barry Sanders and Thurman Thomas who have all been under 5-10, and in the case of Sanders and Thomas weighed less than 200 pounds. Then there are guys like Adrian Peterson or Marcus Allen who are 6-1 to 6-2 and weigh 215 to 225 pounds. So they come in all shapes and sizes — talent is what counts.
What are the common traits of top backs? Outstanding quickness rather than speed is a common trait. The backs' ability to burst to the hole is extremely important. Backs also have to have loose hips and top body control. Backs who lack these traits take too many steps to make cuts because of their lack of top flexibility. Running backs have to have excellent instincts and vision. By this I mean the sixth sense to find an opening very quickly and get to it. He has to have quick feet and the elusiveness to make defenders miss both in tight spots and in the open field. Almost all good backs have lean, power and explosiveness, they can consistently break tackles and get yards after contact.
Backs have to be creative and their creativeness is tied in with instincts. You also want to find players that have the ability to make big plays. It is here that speed can come into play. The quick back might get a 25-yard gain but the back with both quickness and speed can take it the distance. There are two backs in the league now whose game is all speed and they are Chris Johnson of the Titans and Jamaal Charles of Kansas City. Neither of these players is very big but they both have sub-4.4 speed. On the other hand, two Hall Of Famers, Emmitt Smith and Marcus Allen, both were consistent big-play producers and neither could break a 4.6. In fact, they timed much closer to 4.7.
Complete backs also have to be reliable receivers. They have to have good hands and be good route runners. Two current backs, Matt Forte and Jamaal Charles, are often split out like wide receivers because their coaches trust them so much as receivers. In just three years, Forte has caught 171 passes and Charles 112, with most of Charles' production coming in the last two years.
The last thing scouts look for when scouting backs is blocking ability. In the college game many backs are not asked to block that much so often it becomes a learned trait once they get to the NFL. When scouting, if a scout sees a back who is an outstanding blocker in college then that back will have extra value. The backs who become top blockers are all tough guys who are very competitive. Size is important but I have seen smaller backs who were good blockers. They have this innate toughness and refuse to be beat. Good blockers also have top instincts, they have a knack for reading different blitzes and stunts and keep good position.
Fullbacks
In today's game you don't see the fullback used that much anymore. Many teams don't even have one. Often, a team will use one of their "move tight ends" as a fullback. The common traits of the teams that still use a fullback is blocking ability and receiving skills. They seldom carry the ball, and when they do it's usually to catch the offense off guard. It's gotten to the point that when you scout a fullback you almost don't grade his run skills. If a team is going to use a fullback, the player has to be a dominant run and pass blocker. He has to have size, strength, power and body control. You look for a guy who can adjust on the move and have some snap to him when he makes contact. When pass blocking he has to have instincts, size, good hand use and the ability to anchor. As a receiver he has to have good hands and be able to uncover versus zone defenses, find the openings in the underneath zones for check down passes. It's because of what teams ask a fullback to do that the smaller "move tight ends" are more desirable to play the position.
Want to work in the NFL? Click here to sign up for the NFP's "Chalk Talk at the Combine" Seminar February 25 in Indianapolis.