January 18, 2011 -
Greg Gabriel
Scouting the All-Star Games
ORLANDO — Last week we talked about the interview process at the All-Star games. Today we will finish the discussion by talking about that actual scouting process.
On Monday mornings of the practice week the players from both teams get weighed and measured. It doesn't sound like a big deal. But there actually may be more scouts watching this than practice. The players come out one at a time on a makeshift stage and their height, weight, arm length and hand size is all measured. It is really the first time that scouts get to see "body types" and it really is significant. The players' build and arm span are all vital in the evaluation process. Why? Because scouts are looking for naturally big guys but not "fat" guys. You can tell if a guy spends a lot of time in the weight room. When evaluating offensive and defensive linemen the arm length is very important. The common denominator of great pass rushers is not their speed but arm length. Players with long arms can have a natural leverage advantage. Short-armed players can struggle keeping their hands on their opponent because of the arm length disadvantage. Shorter players like Dwight Freeney of the Colts and Anthony Adams of the Bears both have extremely long arms. The longer arms actually make them play "taller."
The general rule when scouting the All-Star games is you don't downgrade a player for his play during the week but you can push his grade up. Many of the players have not practiced or had contact in as long as two months. They can be "rusty." On top of that, the players are playing with guys they have never played with before and playing in a system that they are not familiar with. It's how he practices; his energy level, his intensity and his competitiveness that is closely looked at. If a player shows up out of shape that is a huge negative. The All-Star games, the Combine and the college pro days are part of the "interview" process and how the player responds is crucial in evaluating his "football" character.
These games can be very critical to small-school players. When you have a I-AA player or a Division II player invited, you want to see how he responds to playing against players from a higher level of competition. If he is in awe of the players from the "big schools" or looks average in practice then his chances of playing in the NFL are minimal. If he is the equal or better than the big-school kids then you know he has a good chance of becoming a "player."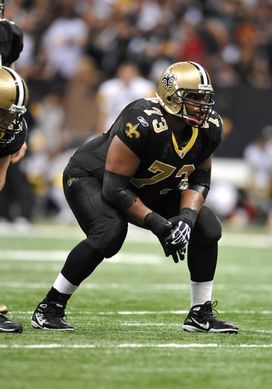 ICONSaints guard Jahri Evans played at Division II Bloomsburg State in Pennsylvania.
Five years ago, there used to be an All-Star game in Las Vegas. Jahri Evans, the guard with New Orleans, was playing in the game. Evans played his college football at Division II Bloomsburg State in Pennsylvania. When you watched tape of him while at Bloomsburg he dominated because of his natural size and strength advantage. When he got to the All-Star game he did the same thing against the Division I kids. While he was raw from a technique point of view, he was every much an equal in size, strength and power. You could easily see that he had a strong chance of becoming a good player in the NFL, which has turned out to be true. He started as a rookie.
Johnny Knox of the Bears really stood out at the Texas versus the Nation game in El Paso two years ago. He followed that up with a strong Combine performance. When he got to the NFL he also started as a rookie and is an important part of the Bears offense.
Earlier I wrote that you don't want to downgrade a player for his All-Star game performance. While that is a rule in many scouts' thinking it isn't always the case. Two years ago Phil Loadholt had an outstanding season at the University of Oklahoma playing left tackle. When he got to the Senior Bowl the coaches played him at right tackle. He had never played right tackle in his life. It doesn't sound like a hard thing to do but it is. It's like asking a right handed batter to bat left handed and get hits right away. In time you can make the transition but it takes a few weeks of practice. The footwork is the exact opposite and a player is not going to get it down in a few days. The heavy practices at All-Star games are Monday through Wednesday and Loadholt struggled in these practices because he had never played on the right side before. If you had never seen him before you would have thought he was a poor player, but in reality he was asked to do something he had never done before. Going into the week he was looked at as a surefire first-round pick but because he struggled he ended up getting drafted in the second round. He started as a rookie for the Vikings and his strong play showed he should have gone in the first.
Yesterday at the East-West game the practices were held in a hotel ballroom because of the heavy rain in the Orlando area. To a scout it was a useless practice, so that makes today and tomorrow's practices all that more important. We will let you know what we see.
Want to work in the NFL? Click here to sign up for the NFP's "Chalk Talk at the Combine" Seminar February 25 in Indianapolis.