February 11, 2011 -
Greg Gabriel
Scouting Tight Ends and Receivers
When you scout a tight end with the way the game has evolved in the last few years, you are really looking for two types of players — a blocker and a big receiver. In each draft, there are very few that can do both real well. Last year seemed to be an exception because there were two that have turned out to be "complete" tight ends. They are Rob Gronkowski, who New England took in the second round, and Tony Moeaki, who was drafted in the third round by Kansas City.
The blocking or "Y" tight end has to be a bigger guy, usually 6-4 to 6-6 and 255 to 265 pounds. These guys are like smaller tackles. They are strong and explosive players who get off the ball quickly and are explosive blockers. As offensive linemen, they have to have good bend and excellent balance. Speed is not a top trait for these players but he can't be a snail either. If you find a player in the 4.85–5.00 area, that can be ideal. These in-line tight ends are often asked to pass block so long arms and the ability to anchor at the point is preferred.
It has been hard to find good blocking tight ends and so many teams will look at smaller guards or tackles who may have been a tight end in high school to fill this need. But if you find a player like this he obviously has to be athletic enough and have adequate hands and ability to adjust to the ball.
When writing up the traits of a "receiving tight end," clubs will have varied definitions depending on exactly what they are looking for. These players are "big wide receivers," so speed, body control and hands are at the top of the list of traits. Their size can be in the 6-3 to 6-5 range with speed, preferably in the 4.60-4.65 range. This player has to have good intelligence with the ability to read coverages and make route adjustments. They have to be able to get out of cuts quickly to get separation and have a burst going after the ball. They also have to have excellent run after the catch skills. Receiving tight ends are not asked to block as much but they do have to be willing blockers with the ability to break down and block in space.
Wide Receivers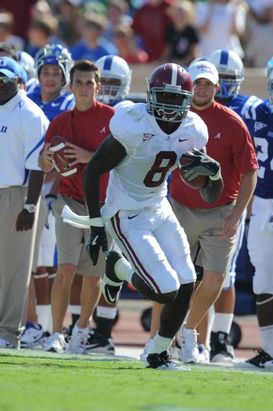 ICONAlabama WR Julio Jones is expected to be a first-round selection.
With that said, obviously speed is the most desired trait — the faster the better. Good speed can be defined as anything under 4.50. We read about all these guys who are 4.3 types, but in reality there are not that many who are legitimate 4.3 receivers. Many receivers spend 6-8 weeks preparing for the Combine work with speed specialists, so when they run at the Combine they are in great shape and we expect them to run well. Seldom do you see them play to that speed when they are on the football field.
Along with speed, body control is a very important trait. Some fast guys have just straight-line speed, they can be tight in the hips or knees and when they have to make a cut they lose their speed advantage because they have to "motor down" in order to make the cut. I would much rather have a 4.48 guy with excellent body control then a 4.38 guy who is stiff in the hips. Route running is all about setting up the defensive back. The receiver with excellent body control can use his speed and change of pace to throw the defender off. The player who can make a sharp cut and actually pick up ground on the defender is highly desired.
After speed and body control, the receiver has to have good hands. You want a guy who consistently catches the ball in his hands away from his body. He also has to be able to adjust to a poorly thrown ball, so you want a player with very good upper body flexibility who can turn his body to make the difficult catch. Next you look for run skills. You want a guy who has great run instincts — a player who has a feel for where defenders are and has the quick feet to change direction and make the defender miss a tackle. A receiver who can turn a 10-yard catch into a 20 to 25-yard play is the perfect guy.
Receivers also have to have a high degree of football intelligence and instincts. They have to be able to read coverages on the move and make adjustments to their route. Last, you need a player with excellent toughness and courage. Receivers often have to go across the middle and expose their bodies to a big hit. The top receivers aren't afraid to give up their body, take the hit and bounce back for the next play. Guys like this also have a tendency to be good blockers.
Want to work in the NFL? Click here to sign up for the NFP's "Chalk Talk at the Combine" Seminar February 25 in Indianapolis.