January 23, 2014 -
Greg Gabriel
Senior Bowl notebook
North Practice
MOBILE, AL—Wednesday concluded the heavy practices at the Senior Bowl. Thursday's practices are more geared toward final installation of the playbook with no hitting. At the North practice in the morning, I was able to take a close look at the wideouts. The receiver who stands out the most from this group is Oregon's Josh Huff. Huff has both speed and quickness and is a good route runner. He can snatch the ball and, in my opinion, has clearly been the best receiver for the North squad this week. UCLA's Shaq Evans has size and is very smooth with good speed. He shows he can run very good routes, but can be inconsistent catching the ball. Evans started his college career at Notre Dame and transferred to UCLA after he couldn't get playing time with the Irish. There are some who question his mental toughness.
Robert Herron from Wyoming had a good week. He is more quick than fast and demonstrated above average cutting ability and soft hands. Herron does a good job adjusting to the ball and flashes a burst with moves after the catch. He isn't a big guy at 5087 – 193, so he will have to function as a slot receiver in the NFL.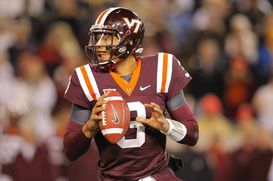 ICONLogan Thomas and the rest of the North quarterbacks struggled this week.
There are some who like to compare Wake Forest's Mike Campanaro to Wes Welker. I don't see it. Campanaro has a little more size, but isn't nearly as quick as Welker nor can he run routes like the Denver pass-catcher. Wisconsin's Jared Abbrederis is sure-handed and is best at uncovering versus zone, but will never be a deep threat.
One thing that stood out during practice this week is that the South squad has by far the best quarterbacks. All three of the South quarterbacks looked better in practice than the North's Tajh Boyd, Logan Thomas and Stephen Morris. While all three have good arm strength, they struggled with accuracy.
South Practice
I spent Wednesday afternoon watching the big guys at the South practice and I came away thinking that there are some talented people on that roster. A few of the defensive linemen who stood out Wednesday included Arizona State's Will Sutton. Sutton is similar to the North squad's Aaron Donald in that he lacks great height and arm length, but is very competitive, strong and explosive. Sutton measures 6006 – 315, but he is very quick and strong. He has very good initial quickness and is explosive on contact. In pass rush drills, Sutton showed the power to walk bigger offensive linemen backwards. With his quickness and body control, Sutton can be tough to block and he uses his hands very well. He will be at his best if he is drafted by a team that uses a 1-gap scheme. California's Deandre Coleman is a big run stuffer. He measures 6050 – 315 and shows strength and power at the point of attack. He has good run instincts, but in pass rush drills, Coleman doesn't show a lot of moves. But with his power, Coleman is consistently able to get a push.
The best edge rusher on the South is Auburn's Dee Ford. He doesn't have great size (6021 – 243) for a defensive end, but Ford is very quick off the ball and can turn and get under blockers to create pressure. Like most good pass rushers, he knows how to use his hands. Look for Ford to be worked out as a linebacker at both the Combine and his Pro Day. The 3-4 teams are the clubs that will have the most interest.
On the offensive line, people took notice of Virginia's Morgan Moses. At 6061 – 325, he is one of the bigger linemen here. Moses has played left tackle all week, but I see him playing on the right side in the NFL. He doesn't have the lateral quickness to stay with NFL speed rushers if lined up on the left side. The one thing he does very well is anchor versus the bull rush and is also effective as a run blocker. I haven't watched any tape on Florida's Jon Halapio and there have been reports that his play this season was inconsistent at best. That was not the case this week, as Halapio was steady every day as both a run and pass blocker. Jon claims that he was not as healthy during the season as he is now.
Arkansas' Travis Swanson lined up at both center and guard and showed the versatility needed to play in the NFL. He has had a very good week.
Follow Greg on Twitter: @greggabe