January 22, 2014 -
Greg Gabriel
Senior Bowl notebook
NORTH PRACTICE
MOBILE, AL—I concentrated on the offensive linemen for Tuesday morning's practice. The Atlanta Falcons staff is coaching the North Squad with their new offensive line coach Mike Tice, who has been doing an excellent job with the North linemen.
In the 1-on-1 pass block drills, Tice worked with a number of the linemen on their hand use. Too many of the North's linemen are winding up with their hands and exposing their bodies. This gives defensive linemen a significant advantage when it comes to leverage. The man who gets his hands on his opponent first usually wins the battle.
Ohio State tackle Jack Mewhort is tall and has a long frame, but he was one of the linemen that was outside in with his hands, thus giving up his chest to the opposition. Mewhort got bull-rushed twice because of this. While he has good athleticism, Mewhort needs to play with better bend while keeping his hands inside.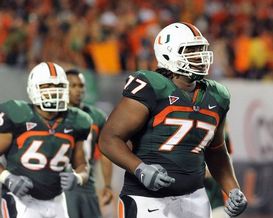 Miami's Seantrel Henderson (right) has the size, but will he pan out in the NFL?
Utah State center Tyler Larsen has short arms, but he is quick off the ball and can use his hands well. He is tough and strong and does a nice job finishing blocks. Larsen jumped out because of his technique and tenacity.
Notre Dame's Nick Martin has looked good during both practice sessions. He has lined up at both left tackle and left guard. At 6041 – 305 with 32.5" arms, Martin may be maxed out from a growth standpoint. Still, he is well coached, has the best hand use of all the North linemen and can bend. Martin has been consistent with winning his battles both in the run and pass game. Because of his size limitations, I don't see Martin going in the first round, but some team is going to get a first-year starter at guard or tackle with this kid during the early part of the second round.
Miami's Seantrel Henderson has all the physical tools necessary to become a top NFL lineman. He measured 6067 – 331 with 34.25" arms. From a physical standpoint, Henderson may be the best looking lineman here on the hoof. Unfortunately, it ends there once the whistle blows. Henderson does flash in the run game because of his natural size and power, but struggles with keeping good position in pass protection drills. He has been a career underachiever and has to learn to pay closer attention to detail. At the moment, Henderson is a wild card as far as where he gets drafted because he has does possess some solid tools. He has the makings of a real boom or bust pick this May.
Baylor's Cyril Richardson is one of the bigger linemen on the North squad who checked in at 6044 – 343 with long arms. But watching him this week, I can't help but feel he has been a disappointment. While Richardson has strength, he lacks bend and balance. On Monday he got pancaked by Pittsburgh's Aaron Donald in pass protection and totally whiffed on another rep. In the run game he gets too tall, stops his feet and doesn't finish. Richardson would be better off at about 320-325.
SOUTH PRACTICE
Tuesday afternoon in Mobile was sunny and very windy, so it served as an excellent opportunity to watch the quarterbacks. It's a very important part of the evaluation process knowing if a quarterback can handle throwing the ball in windy conditions. I don't know if it was by design or if the Jacksonville coaching staff (who is coaching the South this week) changed their plans for the day, but there were very few deep throws all practice. The majority of the throws were under 20 yards for all the quarterbacks.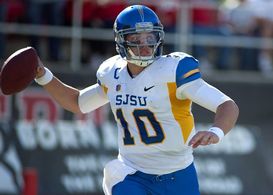 San Jose State's David Fales was more errant than his fellow South team quarterbacks on Tuesday.
Fresno State's Derek Carr looked the best of the three South quarterbacks. He has a quick release and can spin the ball to cut the wind. Carr had a few off-target throws, but in all instances it was the wind that made for the errant passes.
Eastern Illinois' Jimmy Garoppolo was next up to the plate. Like Carr, Garoppolo possesses a very quick release, but has the smallest hand size of all the quarterbacks in Mobile (9"), so I was very interested in seeing how he could spin it. Like Carr, the ball comes out quickly and, for the most part, Garoppolo threw a tight ball, but he needs to improve his footwork. However, Garoppolo is a hard worker and the footwork should improve in time.
While San Jose State's David Fales didn't look bad, he was still third in terms of performance regarding the three quarterbacks. Fales doesn't have as quick a release as Carr and Garoppolo and doesn't spin the ball as well. He had an adequate day, but he threw more off-target passes than the other two quarterbacks. Like Garoppolo, Fales needs to improve his footwork. When throwing from the shotgun, he looked a bit flat-footed and didn't get his lower body into the throws as well as the others.
Wednesday is supposed to be cold and windy, so it will be another excellent day to get a good feel on how talented these quarterbacks really are.
Follow Greg on Twitter: @greggabe