January 21, 2014 -
Greg Gabriel
Senior Bowl notebook: How the week has changed
MOBILE, AL—There are approximately 110 players practicing here in Mobile for Saturday's Senior Bowl. But the big surprise relates to the players who declined an invitation to this year's all-star game. Over the years, the Senior Bowl has been the premiere all-star game as far as projected high picks in the NFL draft. In the last few years, however, as the number of underclassmen deciding to enter the draft has risen, the quality of players at the Senior Bowl has dropped. Why? Last year over 70 underclassmen declared for the draft and many of those players would have been invited to this year's Senior Bowl. This year there are approximately 100 early entries for the draft and, obviously, many of those players would have been invited to play in the Senior Bowl next year.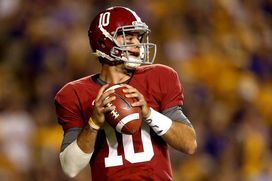 McCarron's decision to pass on Senior Bowl week has raised some questions.
Not only has last year's early entries affected the game, but there are also over 25 players who had originally accepted an invitation that are no longer on the roster. Many of these players have minor injuries and are rehabbing, but some just decided not to play on the advice of their agents. A number of these players are sure to be selected very high in May's draft.
The group of players that are not here based on their agent's advice include two of the highest rated outside linebackers in the country. Anthony Barr from UCLA and Kahlil Mack from Buffalo are both potential top-10 picks. Inside linebackers Shayne Skov from Stanford and C.J. Mosley from Alabama also rated as potential first round picks and have decided not to make the trip to Mobile. Two of the top corners in the draft, Darquez Dennard from Michigan State and Justin Gilbert from Oklahoma State also opted against playing in this year's game.
There are also some top names from the offensive side of the ball who turned down invitations. Those players include Texas A&M tackle Jake Matthews and running backs Carlos Hyde from Ohio State and Tyler Gaffney from Stanford. After having spent the last three days here in Alabama, I haven't heard a word of complaint about any of the above names not wanting to play in the game. The only name currently talked about is Alabama quarterback A.J. McCarron, who has gotten a lot of undeserved publicity for turning down his opportunity to play in the game. While a few NFL people have complained, most of the criticism comes from the draftnik community. Many of these people have not had the chance to see McCarron live and because the Alabama quarterback opted out, they've taken issue with the decision.
My thought is this: I could care less that McCarron is not here. Scouts, general managers and the draftniks have had three years and 40 games to evaluate McCarron. He has been a very productive player on the highest-profile team in the country. If they don't know what he is by now, missing three days of practice at the Senior Bowl sure as hell isn't going to help them. If they are going to complain about McCarron not being in Mobile, then let's hear the same complaints about the other players who chose not to play.
Follow Greg on Twitter: @greggabe