January 28, 2011 -
Greg Gabriel
Senior Bowl notes
Senior Bowl
After seeing some prospects for the first time live at the Senior Bowl practices, here are my thoughts on a few that stood out to me.
James Carpenter – OT – Alabama: He has ideal size (6-4, 313 pounds) with 34-inch arms. Plays with bend and showed the best anchor ability of the group. Can be physical and has enough athleticism to play on the left side. The week helped him.
Gabe Carimi – OT – Wisconsin: He was a great interview, is very well grounded, football is important to him. He has size, strength and power. May end up being a better pro than the tackles taken before him in the draft.
Danny Watkins – OG – Baylor: His age (26) may get him drafted lower than his talent deserves. This guy is a player. He is strong, very physical and has good movement skills. Is a talented run and pass blocker. Played left tackle at Baylor but is more suited to play guard at the next level. May even have a future at center.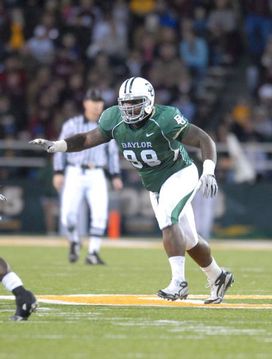 ICONBaylor DT Phil Taylor is an intriguing prospect.
Phil Taylor – DT -- Baylor: When was the last time you talked about two Baylor linemen in the same draft? For such a big man (6-3, 337 pounds) he moves really well. Looks like a pure nose tackle in a 3-4 but because of his quickness he should be able to play defensive tackle in a 4-3. Consistently got penetration in the pass rush drills. Interesting guy.
Nate Solder – OT – Colorado: A lot of tall guys don't bend very well, but Solder does. He can sink his hips and stay low. Has good balance. Pass protection is his forte now, with his hand use, bend and positioning. He still needs to get a little bigger and stronger in the lower body to be a consistent NFL run blocker. He has the frame to add the bulk.
Titus Young – WR -- Boise State: Another impressive interview. Real good kid who has a passion for the game. Is an impressive receiver with speed and body control. Does a great job getting in and out of cuts and can snatch the ball. Will probably start out as a slot receiver.
Cecil and Cam Newton
The father of Cam Newton, Cecil, has scheduled a workout for his son in front of the media on February 10. Mr. Newton, let me tell you something, you are making a huge mistake. The media cannot get your son drafted high, his agent can't get him drafted high and you can't get him drafted high. Only one person can and that's Cam Newton. The public interference of an overbearing father will only cause problems and get his son drafted lower.
After spending five days in Mobile, I came back knowing one thing and that is scouts are all over the board on Newton. Most agree that he has excellent football ability. Most agree that another year in school would have served him well. And most agree that his father's interference is doing nothing but hurting the kid.
There are many who believe the Mississippi State fiasco may be just the tip of the ice berg, that as the NCAA continues to investigate, more will be found. When you couple that with the issues Cam had at Florida, clubs are thinking "is he worth the risk?"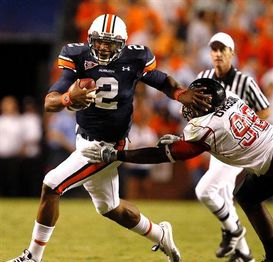 Heisman Trophy-winning QB Cam Newton.
When a club drafts a player they want to know what they are buying. Is there a character flaw with the player and are there problems with the family that could have negative influence on the prospect's play? Mr. Newton has already proved to be a problem. With him scheduling a workout in front of the media, clubs are seeing that the problem is not going away, it's only getting worse.
My question is this: why even schedule a workout for the media? It serves no purpose. If Mr. Newton thinks clubs will be there he's wrong. Other than the Combine, clubs can watch a prospect work out in only two places: the player's school and his hometown. Furthermore, no club can work out a player who has been invited to the Combine before the Combine.
The members of the media are not talent evaluators — they cannot tell you if a prospect is having a good workout or a bad one. They don't know what to look for. This whole idea is just a total waste of time!
Want to work in the NFL? Click here to sign up for the NFP's "Chalk Talk at the Combine" Seminar February 25 in Indianapolis.