January 27, 2011 -
Greg Gabriel
Senior Bowl QB thoughts
MOBILE — Having not been on the road this year like I have when I was a scout, last week at the East-West practices and this week at the Senior Bowl were my first in-person looks at many of the top prospects in this year's draft. What was confirmed was that this year has a strong quarterback class. There may not be many first-round types, but a club is going to be able to draft a quarterback in the middle rounds that has a strong chance of becoming a good starting quarterback in the NFL.
Quarterbacks do not have to be drafted in the premium rounds (1st and 2nd) in order to become a quality pro. All you have to do is look at the different rosters in the league and you will see what I mean. Obviously the biggest name is Tom Brady, who was a 6th round pick with the Patriots. He is a future Hall of Famer. Others currently in the league who have had productive careers are Matt Hasselbeck with Seattle (6th round), Kyle Orton (4th round) Matt Schaub (3rd round), David Garrard (4th round) Matt Cassell (7th round) and Tony Romo (undrafted free agent). Kurt Warner, who retired after last season, was also an undrafted free agent.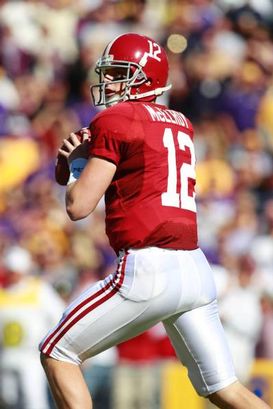 ICONAlabama's Greg McElroy is accurate, makes plays and doesn't turn the ball over.
At the Senior Bowl this year, I'm not sure any of the quarterbacks will be drafted in the first or second round but there is not a doubt in my mind that all will make rosters and some will become quality starters. The three that I like that I like the most are Greg McElroy of Alabama, Ricky Stanzi of Iowa and Andy Dalton of TCU. They all have had excellent practices the last three days. Stanzi may have been the lowest-rated of the three going into the week and gained the most. He has shown great poise and leadership and has had no trouble picking up the offense. While he doesn't have a canon for an arm, it's more than good enough. He has thrown the best deep ball in practice. Many are right on target and if he misses it's not by much. His timing and footwork have been very good and he gets the ball out of his hand very quickly.
The Buffalo Bills have a need at quarterback and by coaching the South squad they have had the opportunity to work with both Dalton and McElroy. They have seen firsthand how these players act in the classroom, carry it over to the practice field and how they lead a team. This will be invaluable to them when making their draft day decisions.
When I look at both, I see many common denominators. They both have been consistent winners at the college level. They have played in big games and produced. They have about the same size (McElroy is 6-1, 222 pounds while Dalton is 6-2, 213 pounds) and have about the same arm strength.
I like the poise they show and their overall attitude and demeanor on the field. These guys are winners. In my view, McElroy has a slight advantage. I saw him play live twice as a junior and watched at least five games this year. He has to be one of the most consistent quarterbacks in college football. He is accurate, is a playmaker and doesn't turn the ball over. On top of that he played in a pro-style offense at Alabama. He has carried over his solid college play to the practices here in Mobile. I predict that he will be a winning quarterback when he gets to the next level. Why? He has been a winner all his life and he has the physical tools to do it.
I can say the same things about Dalton. He has been a 4-year starter at TCU, been very durable and his most amazing stat is he has lost only 3 games in the last three seasons. He has a little more of a transition to make because he played in more of a spread style offense. In the practices here, he has looked good playing from under center. He can set up quickly, find the open receiver and get the ball out of his hand. He throws a nice tight ball with more than adequate arm strength. Like Stanzi and McElroy, he has shown very good poise.
The bottom line is that three NFL clubs are going to draft three good quarterback prospects and not have to pay a premium price to get them. All three clubs will become better teams because they drafted one of these kids.
Want to work in the NFL? Click here to sign up for the NFP's "Chalk Talk at the Combine" Seminar February 25 in Indianapolis.