October 17, 2014 -
Greg Gabriel
Should Dak Prescott enter the NFL draft?
With Mississippi State being top-ranked college football team in the country at the moment, many Bulldogs and college football fans are wondering if star quarterback Dak Prescott should enter the NFL Draft. The short answer is no.
In simple terms, Prescott is not ready to be an NFL quarterback. Why? Experience and a bunch of other factors. Let me explain.
Prescott is a fourth-year junior, but this is the first year he has been a true starter. He redshirted in 2011 and then played spot duty in 2012. He was also used in short yardage situations and threw a total of 29 passes that year.
In 2013, Prescott started seven games, but really played in a two-quarterback system with Tyler Russell. While he received valuable playing time, it was not Prescott's team until this year. Yes, he has played well and has led Mississippi State to a 6-0 record to date. But his play says he is not an NFL quarterback just yet.
Prescott has very good size. He is listed at being 6020 – 230. He has a thick build with long limbs, which makes him look taller than he measures. Prescott is built more like a big running back than a quarterback, but he is a good athlete with adequate speed for the position. Based on tape, I would estimate his speed being in the in the 4.67 to 4.70 range. Prescott doesn't have the speed of Cam Newton or Johnny Manziel, nor does he have the athleticism and quick feet.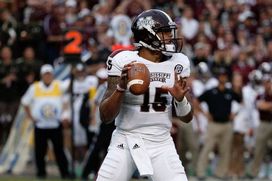 Prescott has guided the Bulldogs to a 6-0 start this season.
Prescott plays in a read option spread formation. Mississippi State uses a lot of play action and when they do pass, Prescott seldom reads more than two receivers. While he generally makes good decisions on who to throw to, you almost never see Prescott go from the one to the two and then back to the one. It's more throw to the one and if the throw isn't there, go to the two or run.
The system used by Mississippi State is similar to the system head coach Dan Mullen used when he was the offensive coordinator at Florida. The system was at its best when Tim Tebow ran it for the Gators. Prescott is a similar athlete to Tebow and has similar throwing skills. But we all know how Tebow turned out in the NFL.
When comparing Prescott to Tebow, the Bulldogs quarterback has a much tighter throwing motion, but still looks very mechanical. His delivery quickness is average and he does not throw a consistently tight ball. While Prescott has mobility, he can get a bit flatfooted before he actually throws the ball. With his throwing motion, he has a tendency to push or aim the ball. Because of that, Prescott has very inconsistent accuracy. While he makes some nice throws, he also has far too many throws that aren't even close. They are low, high, short or long.
The other thing that jumps out on tape is that Prescott will "tare down or lock onto his receivers. While a quarterback can get away with that in college, he will never be able to do that in the NFL. Lock on to a receiver in the NFL and it's an interception waiting to happen.
When I refer to accuracy, I am also talking about ball placement. Some quarterbacks can be accurate with short passes, but will struggle with longer throws. With Prescott, his ball placement is inconsistent with both short and long throws. I've seen short swings and check-down type throws that have been far off the mark.
Overall, Prescott is still a work in progress. He has talent and with playing time will improve. But he needs work on his mechanics and needs to improve his ability to read defenses and go through a progression. This is not unusual with any quarterback who is a first-year starter.
Last year there were questions about whether or not UCLA's Brett Hundley and Oregon's Marcus Mariota should enter the draft. Both players put their name in for evaluation from the NFL's underclassmen advisory committee and neither player got a first-round grade. Because of that, both players stayed in school and are better off because of it.
Both Hundley and Mariota were better and more advanced as quarterbacks last year than Prescott is now. Prescott should follow their example and stay in school. The added year of experience will help him develop his game and get him more prepared for the rigors of the NFL. I can't see Prescott being anything more than a late round pick at this time. He would be doing himself a disservice by leaving school early.
Follow Greg on Twitter: @greggabe