July 26, 2011 -
Barry Dorey
Signing rookie free agents isn't just about money
With the lockout ending yesterday, there were endless stories and posts on many different subjects. One that caught my eye was on profootballtalk.com about how the rookie free agents got screwed by the new CBA. I like the profootballtalk.com website and I respect Mike Florio — he does a great job — but in this case I have to respectfully disagree because he didn't have all the facts when he wrote his article.
Florio wrote that this year there is a $75,000 limit per team on total rookie free agent signing bonuses. Because of this teams won't be able to have enough money to really go after the free agents they like with high bonuses. This is actually not the case, as I will explain.
I was involved with signing rookie free agents for over 25 years. It is a crazy time and the signing period usually lasts only about three hours after the draft. The undrafted players had very little time to make up their mind and their agents were probably fielding offers from up to a dozen teams.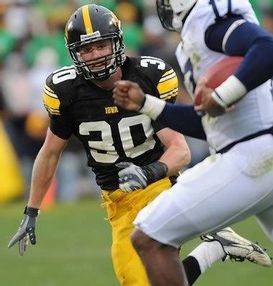 Former Iowa safety Brett Greenwood
Some people are under the assumption that a player signs with the highest bidder. That is not true. First off, all rookie free agent contracts are very similar. They are usually three years in length and are for the minimum salaries each year. The only thing that is different from one contract to the next is the signing bonus. The signing bonus can be anywhere from nothing to in some cases $25,000. The high number is very rare. In fact few teams spend that much money on signing bonuses for rookie free agents. In past years the norm has been in the $25,000 to $45,000 area in total money spent on free agent bonuses. There have been a few teams that spend more than that but it isn't more than a handful of teams. Why? Because under the old cap rules every dollar spent on a signing bonus went against the rookie cap. So if a team spent $75,000 or even $100,000 (and there were a few) on free agent signing bonuses then they had that much less to give their draft choices who deserve the money because of course they were drafted!
Remember, the rookie pool each club was assigned was different from club to club. The amount of money in the pool was determined by how many draft picks a club had and how high the first pick was. Free agent money didn't figure into the equation, so when you spent signing bonus money on a free agent it gave you less to use for the draft picks
Many clubs would give most of their undrafted free agents a signing bonus in the area of $2,500-$5,000 and maybe they would give a top free agent 7,500 to 10,000. There are many consistently winning teams that only pay $1,500–2,500 to any free agent. Why? Because they do an excellent job before the draft selling opportunity to the player when they recruit him. If you are serious about wanting to sign an undrafted free agent, you start recruiting the player weeks before the draft not after the draft is over! The good agents know and understand this philosophy and will usually advise their client that even though team A may be offering more money, team B is the best opportunity for you to make the club. In the end it is about making the club and earning $375,000 or getting on the practice squad, not getting a few extra grand in a signing bonus.
Getting back to the profootballtalk post, the rookie free agents weren't screwed this year. They were winners — big time! The majority of NFL clubs spent nowhere near $75,000 in rookie free agent money in the past so this year the total money pool is much larger than in past years, which of course means more money for most free agents. Yes, there are a few clubs that won't be able to spend $100,000, but in reality that is only a few clubs.
The other thing that I found faulty with that article was that it presumed that if a club spent a lot of money on a rookie free agent they must really like him. That's false. Over the last few years, there has been only an 80-man roster limit for training camp. Many of these "high priced" free agents never made it to training camp because were cut after the OTA's. I have seen this happen year after year, which is why recruiting the player on opportunity is so important.
Today, clubs can begin to sign college free agents and I would be willing to bet that most of the signings will be done before the close of business today. Earlier I wrote that the signing frenzy lasted for about three hours after the draft ended but because there were no signings after the draft this year the players who didn't get drafted have had three months to "research" where the best place for them is. Yes, it will be more difficult for these players to make a team because their time to impress the coaches is limited. So in my opinion OPPORTUNITY means even more.
If a player knows the rosters of the teams that are trying to sign him then he and his agent should be able to make a very educated decision on where to sign. For example, as of today, the Bears have only two veteran linebackers under contract and they drafted a linebacker late, so if a college free agent linebacker is getting a call from the Bears he should listen because there is an excellent opportunity there. There will be situations like that all over the league, all the player and agent has to do is the proper research and that research should have been done weeks ago because now it's too late…today is signing day!