March 17, 2011 -
Greg Gabriel
Sizing up Nick Fairley vs. Marcell Dareus
The consensus top two defensive tackles in this April's draft are Nick Fairley of Auburn and Marcell Dareus of Alabama. Both had very productive 2010 football seasons. There has been much debate over the last few weeks as to who is the better football player. They play similar positions, but they are not similar players in style of play. Let's take a look at both.
Nick Fairley
The Auburn DT was a bit of a one-year wonder. He was a 3-star recruit as an offensive lineman coming out of high school. He was offered by the likes of Auburn, Alabama, Louisville and Kansas State. Because he was a non-qualifier he chose to go the JC route and enrolled at Copiah–Lincoln Community College in Mississippi. He redshirted in 2007 and had a great season in 2008 as a defensive lineman. He transferred to Auburn for 2009 and played as a rotational backup, getting 28 total tackles, 1.5 sacks and 3.5 tackles for loss. His breakout year was 2010 when he had 60 total tackles, 11.5 sacks and a whopping 24 tackles for loss.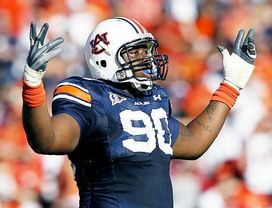 Nick Fairley logged 11.5 sacks and 24 tackles for loss in 2010.
Fairley has ideal defensive lineman size (6-3, 291 pounds) with 34.75" arms. He runs well (4.86) and has very good natural athleticism. He did not bench at the combine or his pro day (he has a slight shoulder injury) but he plays with great natural strength and power. He is very quick off the ball with an explosive first step. He can get tall but when he stays low he can be almost unblockable. He has quick hands to shed and he is a playmaker. He has some freelance to his play which will put him out of position at times but he also has the recovery quickness and agility to still make a play while being out of position. I would not call him a real disciplined player. He is a natural pass rusher who can use power or redirect. He has a very good burst off of blocks and uses his hands well. He also shows that when a plays needs to be made in a key situation he can make it. There are very few defensive linemen who have that trait.
Some of the concerns I have is he is not a consistent down after down competitor. He will take some downs off. There was one game I saw where he looked very average and there are others when he totally dominates. I have been told he doesn't have great mental toughness and really doesn't know how good he can be. He is not a top weight room guy and there are some who question his overall work habits. While saying that, he is extremely talented and can be an All-Pro type player if he wants to be. Because of his size, power and athleticism, he can play just about anywhere along the defensive line in any front. The only place I wouldn't play him is at nose tackle. He could be an ideal left end or 3-technique in a 4-man front or a very good 5-technique in a 3-man front.
Marcell Dareus
Dareus is a true third-year junior at Alabama. Like Fairley, he was a 3-star recruit out of high school. He got into eight games as a true freshman playing both DE and NT. As a sophomore in 2009 he only started four games but played in the defensive line rotation and was always on the field in pass rush situations. He missed a couple early games in 2010 because of an NCAA suspension but was a dominant force on the Alabama defensive front. He is a starter as a 5-technique DE in their base 3-4 defense but when they go to a sub package defense he lines up outside at DE playing both the right and left side. His numbers for 2010 were good. In 11 games he had 34 total tackles, with 11 tackles for loss and 4.5 sacks. In 2009 his sack total was better with 6.5.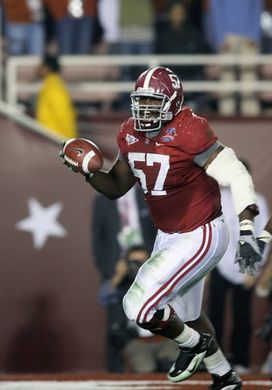 ICONWill Marcell Dareus go ahead of Fairley in April?
Dareus has excellent size (6-3, 319 pounds) with good speed (4.95). There are some that say he is more athletic than Fairley but the numbers don't say that. Fairley ran faster and was noticeably better in all the jumps and agility drills. Still, Dareus is a very good athlete with exceptional balance. He is never off his feet. He is a very consistent down after down player. He is extremely disciplined and you don't see him caught out of position. He knows his assignment and doesn't break it.
He is very strong and powerful off the ball. While he doesn't have explosive quickness, because of his power he consistently gets penetration to be disruptive. He is consistently able to hold the point and is a very good run defender. He shows quick ability to shed blocks and get to the play. He has very good reactions and instincts and is consistently around the ball. He has a great motor and gives you very good effort on every down.
As a pass rusher, he is good but not dominant. He has the quick feet and body control to put moves together but he is more of a power pass rusher. He will consistently get a push. He has good hand use and almost always gets separation from his opponent. At Alabama, he was always used outside but his frame and athleticism say he should be an inside rusher. With his power and balance he will be a much more effective inside pass rusher.
Conclusion
These are both very talented players. Scouts have a way of looking at a player's floor and ceiling. In my view, Fairley is the more talented player and has a higher ceiling. Natural pass rushers are hard to find and that is what Fairley is, but in saying that, he has a much lower floor than Dareus. I'm sold on Fairley's talent, but I am not sold on his football character. He has some lazy to him and there is a question about his overall mental toughness. He has the talent to be a consistent, dominating Pro Bowl-type player but there is risk involved. He needs to mature and show people that the game is very important to him. If he goes to a club that has some defensive linemen with top leadership skills we may find out just how good he can be.
Dareus doesn't have the natural talent that Fairley has but he is a better football player at this time. The game is important to him and he will give you everything he's got. He would be best as a 5-technique in a 3-4 but he can also be a very good DT in a 4-man front. In a place like New England, the Jets or Green Bay, he may be an All-Pro. Because of his intangibles you will never look back on the pick.
If I was the man making the decision on who to take, it would have to be Dareus. When preparing for the draft you don't make final decisions until all the information is in. Two weeks ago I would have gone with Fairley but as I find out more, I have to go with Dareus, while knowing that Fairley could still be a great player.