June 22, 2012 -
Greg Gabriel
Some final thoughts and a big 'thank you'
It was two years ago that I wrote my first "post" for the NFP and now because of a great opportunity with the Philadelphia Eagles this is my last one.
While I thought writing about football was going to be easy, it proved to be much more difficult than I thought. It is because of that that I have a much higher respect for members of the media and what they do than I did when I came to the NFP.
The experience at the NFP was pleasant to say the least. I have been able to work with some very talented people led by founder Jack Bechta. I have known Jack for years and it's because of his foresight that this site has grown year after year.
Matt Bowen is on his way to becoming a media superstar. He combines his knowledge as a former NFL player with his writing talent to give you, the reader, interesting opinions. He has become a contributor to Chicago radio and television as well.
Wes Bunting is one of the hardest if not THE hardest working "draftnik" in the business. I have seen him grow in the last two years to the point where an NFL club may be wise to hire him. He is very talented and passionate about what he does.
Dave Miller has become one of the top college football writers in the business. Like Bunting he is very passionate and puts in endless hours researching what is going on in college football.
While the NFL does not approve of gambling, we know that many of the NFP readers are into both gambling and fantasy football, and it's Joe Fortenbaugh's work that helps them in their decision making.
It's because of these people and contributors such as Brad Biggs, Dan Pompei and Terry McCormick that you come to this site every day.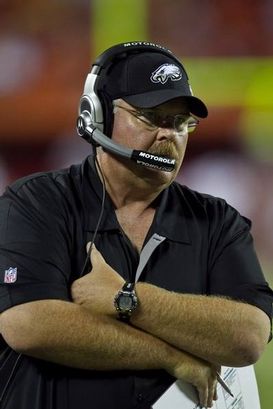 ICONGabriel will work with Reid and Roseman in Philly.
When I took on this endeavor two years ago I thought the best way to approach things was to teach. My degree is in education so I tried to use that training to teach the readers about the game I love so much. What happened was something I didn't expect and something that I'm glad happened…and that was the interaction with the readers in the "Comments" section. Conversing back and forth with you is something that I enjoyed very much and looked forward to with every article I posted.
I think "Mr. Murder" wants to be a scout (or maybe he is!). He always has very insightful opinions. "JMscooby" is a big time Bears fan with wise and educated opinions. "B34R51" just recently became a reader; he's a Chicago transplant who now lives in Louisiana and like Scooby, a huge Bears fan. I like the way he researches his questions.
During the 2010 college season I had an ongoing debate with 'BrownChicken" on whether or not Boise State or TCU belonged in BCS bowl games. After TCU beat Wisconsin in the Rose Bowl I didn't hear from him. Too bad, I liked "arguing" with him. "Mikaela" loves his Cowboys…I don't think they will be a factor this year in the NFC East. "Bill Bates40" always has strong opinions. "Swamisez" feels his opinion is the only opinion…that's OK, he'll learn. I had an ongoing debate with "A57se" about the Jets taking Quinton Coples in the first round, I regret that I won't be able to continue the discussion once the season begins.
I know there are many more that I have failed to mention and for that I am sorry but let me say that I appreciated every one of your comments. It's because of you that the NFP is a successful site.
Since I have been in the NFL I have been lucky enough to work for some of the great franchises. The New York Giants and Chicago Bears. Joining the Eagles makes it 3 for 3!
I have worked with some outstanding football minds and administrators in the past such as Bill Parcells, George Young, Ernie Accorsi, Lovie Smith and Bill Belichick. In Philly, I will be working with Andy Reid, who I feel is an all-time great coach, and Howie Roseman, who is considered a young star in league circles. It's an opportunity that I am very excited about.
Thanks again to all of you who have taken the time to read my articles...it was a pleasure discussing football with you!