July 27, 2013 -
Greg Gabriel
Some potential second-round key contributors
Before I begin writing about the second-round players who could have very productive rookie seasons, I must write about a player I omitted yesterday when talking about first-round defensive players.
The player I'm talking about is defensive tackle Shariff Floyd from Florida. Minnesota drafted the former Gator with the 23rd pick. Floyd reminds me some of Tommie Harris, who was an All Pro player with the Bears a few years ago. Floyd has about the same size and they have similar athletic skills. Floyd is powerful and explosive with a good motor and will upgrade the Vikings defensive line. Getting him at No. 23 was a steal as many thought he was a sure Top 10 pick.
In the second round, the first player off of the board, safety Jonathan Cyprien from Florida International, should be a starter from the beginning of preseason games. Cyprien was a four-year starter at FIU and is a big hitter to go along with excellent ball skills. He very easily could have been selected in the first round.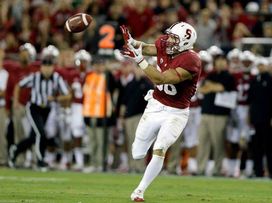 Zach Ertz has the speed and athleticism to play flexed out and the size and power to be a consistent in-line blocker.
Philadelphia drafted tight end Zach Ertz from Stanford with the third pick of the round. The Eagles didn't have a tight end like Ertz on their roster. He has the speed and athleticism to play flexed out and the size and power to be a consistent in-line blocker. By the end of the year he could end up being one of Philly's leading receivers.
If not for the fake girlfriend fiasco, Notre Dame's Manti Teo would easily have been a mid first-round pick. Teo has great instincts and can be very physical. There were some who questioned his cover skills but you don't get 7 interceptions in a season if you can't cover. He should end up being one of the best players selected in the second round.
Buffalo's wide receiver group was very average as compared to others in the league. Robert Woods from USC has the skill set to be a No. 1 receiver type for any team. He is a smooth athlete with excellent hands and run-after skills. After the 2011 season he looked like a potential Top 10 pick.
Carolina had a huge need at defensive tackle. In the first round the Panthers selected Star Lotulelei from Utah. In the second round they took Kawann Short from Purdue. Short played at 330-plus during the 2012 season and that was too heavy. He dropped down to under 300 for the Combine and that was too much of a weight loss. His best weight should be at about 315-318. At that size he can be a very effective nose tackle type. Short is very strong at the point and does a good job occupying blockers. He will be a very good complement to Lotulelei.
Pittsburgh's top running back last year was Jonathan Dwyer, who ran for less than 700 yards. They also didn't re-sign Raashard Mendenhall, who ended up with Arizona. In the second round they selected Le'Veon Bell from Michigan State. Bell is a strong, durable back who is effective moving the chains. At the Combine he showed up at 230 and ran 4.56, which is a lot faster than people thought he could run. It wouldn't surprise me to see Bell run for 1000-plus yards as a rookie. He is a great fit for their offense.
Denver's leading rusher in 2012 was Willis McGahee, who ran for 731 yards. Knowshon Moreno, who has been a disappointment, ran for 525 yards and only a 3.8 yard average. McGahee is now gone and the Broncos drafted Wisconsin's Montee Ball. Ball ran for over 3,700 yards and 61 TDs his last two years at Wisconsin. He is a complete back who also could be a reliable receiver and pass blocker. Like Bell, I expect Ball to run for over 1000 yards this season.
Going into the draft, I thought Kansas State's Arthur Brown would be a perfect Will Linebacker in a Tampa 2 type defense. The Ravens see him as the man who has to replace Ray Lewis -- awfully big shoes to fill. Brown is fast and instinctive with very consistent tackling skills. While I doubt he can be as effective inside as Lewis was, he brings a different dimension with his speed and ability to make plays outside.