April 06, 2012 -
Greg Gabriel
Some potentially risky first-round picks
Every year there are players drafted high that carry a certain degree of risk. The risk could be they are drafted higher than anticipated; there might be character or medical concerns or his production might not match his physical ability. No matter what the concern, the team drafting the player obviously feels comfortable about him. Still many will watch and see if the player's first few years in the league actually live up to where he was drafted. With that being said, here are some players who could get drafted in the first round that carry some risk.
Quinton Coples – North Carolina
There is no questioning Coples' talent. He had a strong year in 2010 and also a dominant Senior Bowl. He followed that up with a strong performance at the Combine. His 2011 season is in question, however. He did not play to the level of 2010 and many felt he underachieved his final year. Granted there was a lot going on at North Carolina with the head coach being fired and the school under investigation, but that is no excuse for a player not to perform. The question teams will have to ask is if they are buying the Coples who showed up at the Senior Bowl or the one who played in the 2011 season.
Courtney Upshaw – Alabama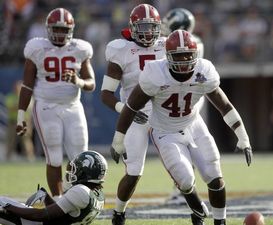 ICONWhat position will Courtney Upshaw play in the NFL?
Upshaw was a dominating player at Alabama the last two years as a defensive end. The question will be what position will he play in the NFL? At 6014 and 278 with 4.79 speed and only 31.5" arms he does not have the physical traits to dominate in the NFL at defensive end. He is a true "tweener." Many of the 3-4 teams will look at him as an outside linebacker but are they comfortable he can drop into coverage? He lacks the height and arm length that 4-3 clubs want at end. The other thing that bothers me was his workout. He didn't work out at the Combine and skipped Alabama's first pro day. He finally worked out last week and showed up 6 pounds heavier than he was at Indy. He also looked fat and by no means was he explosive. His workout numbers were average at best. There is a lot of risk with this player if he is taken in the first round.
Janoris Jenkins – North Alabama
When Jenkins was at Florida he showed he had the tools to be a solid NFL corner. Because of numerous failed drug tests he was dropped from the program and transferred to Northern Alabama. While he flashed there he didn't show the same skills he showed at Florida. The other concerns are he already has a number of children that he has to support and that could cause him to lose focus. Though he has tried to show remorse for his past indiscretions there are many clubs that feel he just doesn't "get it" and will never change. The team that pulls the trigger better be careful!
Michael Floyd – Notre Dame
There is no question that Michael Floyd is one of the most talented receivers in this draft and without a doubt he is the most physical. Still he has made numerous poor decisions in regards to his use of alcohol. Clubs have to be sure that he has learned from his past mistakes and it won't be a problem going forward. If he has an alcohol problem in the NFL it could lead to a suspension.
Ryan Tannehill – Texas A&M
Tannehill has what scouts look for as far as size, athleticism, speed and arm strength to play quarterback in the NFL. What he doesn't have is good play history. He is a questionable decision maker, has not played well in big games and has only played quarterback at the college level for two years with less than 20 starts. Remember he was a receiver his first few years at A&M. His instincts are average. While his physical traits may warrant a first-round selection his play doesn't. Do I think he has a chance to be a good NFL quarterback? Yes, but he is a developmental player who needs years of seasoning. Eight to ten years ago this type of player would have been drafted in the third or fourth round not in the top half of the first.
Dontari Poe – Memphis
As we all know, Poe was the talk of the Combine with his workout numbers. There aren't too many big guys that have the athleticism of Poe. The problem is his production doesn't match his athleticism. I see Poe as a player with the arrow going up but the club drafting him is going to have to be patient. Remember, he is a junior entering the draft early and his play is just starting to catch up with his athleticism. Had he stayed in school he may have been a top 5 pick next year. Still he may not play in 2012 to the level of where he gets drafted.
Jonathan Martin – Stanford
I'm not as high on Martin as some are. While I feel he has a good future in the NFL, I don't feel he will ever be a top level left tackle. While Martin has better than adequate feet and balance, he lacks speed and can struggle when he gets into space. He is a finesse tackle who needs to get a lot stronger to be ready to play in the NFL. If he gets drafted in the top 20 it's too high, to me he is more a 25-35 type of player.