September 16, 2011 -
Barry Dorey
Sooners and 'Noles face first tests of the season
Every week there are important games on the college schedule that can have an effect on the national championship picture. This week there are only two games that have ranked teams playing against each other. The first was last night, where LSU traveled to Mississippi State and won handily 19-6. The other game is tomorrow when No. 1 Oklahoma travels to No. 5 Florida St. in a nationally televised game.
LSU was supposed to be led by senior quarterback Jordan Jefferson but he has had some much-publicized legal problems, so the Tigers have had senior Jarrett Lee playing quarterback. Lee has played very consistently in leading LSU to a 3-0 record, completing 40 of 59 passes for 444 yards and 3 touchdowns. His overall play has been a positive for LSU so far this season.
Let's take a look at the college and NFL weekend slate.
Oklahoma at Florida St.
Oklahoma has only played one game so far and that was an easy 47-14 win over Tulsa, so how the pollsters can say that they are No. 1 is beyond me. Still, they have a strong team led by junior quarterback Landry Jones. This is Jones' third year as a starter and he has put up some great numbers. In the Tulsa game he was 35 for 47 for 375 yards and a touchdown. He has the potential to be a high pick in next spring's NFL Draft if he decides to leave school early. As always, Oklahoma is loaded with pro prospects with no less than 7 in this year's senior class.
Florida St. has also played a cream puff early schedule, winning easily over Louisiana–Monroe 34-0 and then having a tight win against Charleston Southern 64-0. Let's face it, neither of these teams have played anybody yet so their rankings could be a bit curious to say the least.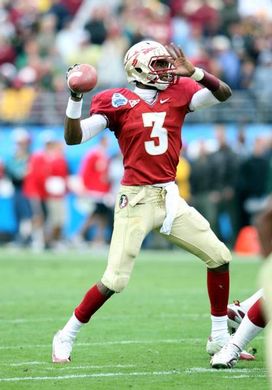 ICONCan E.J. Manuel have success down the field against the OU secondary?
Like Oklahoma, Florida St has gotten strong quarterback play. Their leader is 6-5, 245-pound junior E.J. Manuel. He has size, is athletic and has a big arm. In the first two games he has thrown for 581 yards and 6 touchdowns. Florida St is also loaded with pro prospects with at least 10 seniors who are being scouted by the NFL. Their best prospects are offensive linemen Andrew Datko and Zebrie Sanders. I'm not much of prognosticator, but I will take Oklahoma in this game.
West Virginia at Maryland
Early this year when Maryland hired Randy Edsall to be the head coach many of the football alumni complained. I don't think they will be complaining much longer as they will find out soon enough that Edsall is one of the better college coaches in the nation. His teams are well coached, well prepared and play hard. This was evident in their 32-24 win over Miami.
I watched most of that game and the player who stood out was sophomore quarterback Danny O'Brien. This kid has the makings of being a future NFL quarterback. He has size, a strong arm and accuracy to go along with very good poise. I feel O'Brien will grow every week into one of better QB's in the nation.
West Virginia is ranked 18th based off easy wins versus Marshall and Norfolk St. Who had the tougher opponents? Maryland, who played Miami, or West Virgina, who played the likes of Norfolk St.? That's not to say that West Virginia doesn't have a talented team. I'm just not a fan of early season polls. In my mind they are worthless. I'll take Maryland in this game…It's at home and they have an outstanding QB.
Michigan St at Notre Dame
It's only the third week of the season and this is already a must-win game for the Irish. Notre Dame finished strong last year with 4 straight wins, so much was expected this season. They have disappointed losing their first two games, but in both games their opponent didn't beat them, the Irish have beat themselves. They have something like 7 red zone turnovers in 2 games — an unheard of stat. They have won the battle of statistics but are losing on the field. The one thing I have noticed is that because of the turnovers they are playing uptight. When that happens a team is bound to make mistakes.
I like the play of quarterback Tommy Rees. While he doesn't have the physical tools of Dayne Crist as far as size, speed and arm strength, he is much more football savvy. He has excellent instincts, does a very good job finding secondary receivers and gets the ball out of his hand quickly.
Michigan St is a very well-coached team and has a strong quarterback of its own in senior Kirk Cousins but I have to go with Notre Dame in this one. With their backs against the wall they will come out fighting. A win is imperative; if they start the season 0-3 the chance at a good bowl game is already over. I can see a big win.
Chicago at New Orleans
I would pay to be the umpire or head linesman in this game. Longtime former Bears center Olin Kreutz will be playing against his old teammates for the first time. Trust me, it would be worth the price of admission to hear the "chatter" that will go on in this game. For nine years I heard Kreutz run his mouth in practice against the defense, in a real game I can't imagine what he will say (I can but this is a family website).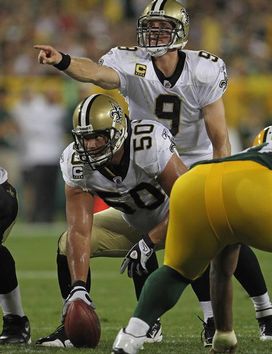 Olin Kreutz faces his former team on Sunday.
One thing is certain: Kreutz knows the tendencies of the Bears defenders and likewise the Bears defenders know Kreutz. This will be a great game. With the Saints coming off a loss at Green Bay and having had 10 days to prepare for Chicago they will be ready. This is their home opener and they will not want to start the season 0-2.
The Bears on the other hand played very well against a strong opponent in beating Atlanta 30-12. The much maligned offensive line held up against the Atlanta pass rush and the Bears defense dominated at times against the Saints. Look for Chicago to line up Julius Peppers on the left side often because the weakness of the Saints line is new right tackle Zach Strief. Strief struggled last week with the edge speed of Clay Mathews.
Oakland at Buffalo
Not many in the media will be writing about this game, but with both teams winning their openers, this should be a good matchup. I thought the surprise win last week was how easily Buffalo beat Kansas City. Last year the Chiefs won their division and were a very well prepared physical team. That wasn't the case against the Bills. Buffalo outplayed KC in every phase of the game and won easily 41-7. Now playing in their home opener, the Bills want to show the home crowd that game wasn't a fluke. Buffalo lost a lot of close games last season, a win like last week's can do nothing but give this team a lot of confidence. They will be tough to beat in Buffalo.
The Raiders for some reason are opening with their first 2 games on the road. Not an easy thing to overcome in the NFL. Under new head coach Hue Jackson the Raiders are playing inspired football and I see a very close and physical game on Sunday. The Bills by 3.