July 18, 2014 -
Greg Gabriel
Team preview: Washington Redskins
After winning ten games and securing a playoff spot in 2012, much was expected from the Washington Redskins in 2013. Those expectations failed to materialize as the Redskins fell to 3-13 last season, leading to the dismissal of head coach Mike Shanahan. The new coach is former Cincinnati Bengals offensive coordinator Jay Gruden, who did an excellent job at his previous destination. It's his responsibility to turn inconsistent Robert Griffin III into a winning NFL quarterback. The other big change in Washington is the role of general manager Bruce Allen. With Shanahan gone, Allen has much more say in the draft and overall personnel decisions. This could be a key move going forward. Do the Redskins have enough to compete for the NFC East title in 2014? Let's take a look.
Quarterback
The Redskins traded a ransom to move up in the 2012 draft in order to select RG3. During the 2012 season, it looked like a great move, as Griffin had an outstanding rookie campaign. In 2013, playing on a repaired ACL, RG3 didn't look nearly as good and now the question is, "Who is the real Robert Griffin III?" Is it the player we saw in 2012 who looked to have outstanding potential, or the one we saw in 2013 who was much more tentative?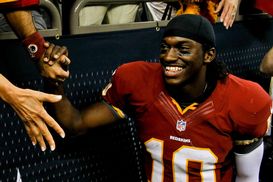 Can Gruden get the 2012 RG3 to reappear?
Gruden does an excellent job with quarterbacks and it is my feeling that he will get RG3 back on track. One thing is certain: After this season, we will have a better idea as to who the real RG3 is. The backup is promising Kirk Cousins who, like Griffin, is going into his third season. Cousins has had his moments when given the chance to play, but overall, he has been inconsistent at best. It's my feeling that he is no better than an adequate NFL backup.
Running back
Washington has a solid back in Alfred Morris. In his first two years in the league, Morris has run for close to 2,900 yards. He has not been used that much in the passing game, as he has only 20 career receptions. In Gruden's system, the running backs are a vital part of the passing offense, so Morris needs to improve his receiving skills. Roy Helu is the primary backup and, under Shanahan, was often used as the third down back. His receiving skills could earn him more playing time under Gruden. The Redskins drafted Baylor back Lache Seastrunk in the sixth round. While he has speed and is an impressive open field runner, he was never used in the passing game while in college.
Wide receivers and tight ends
The big addition during the off-season was the signing of DeSean Jackson, who was cut by the Philadelphia Eagles. Jackson is one of the most explosive receivers in the league. He has excellent speed and is a great open field runner after the catch. He alone should help RG3 improve. Opposite Jackson will be Pierre Garcon, who had 113 receptions a year ago. Garcon is a very physical receiver and also excellent after the catch. The slot will be either 14-year veteran Santana Moss or newly acquired Andre Roberts. Roberts was a starter for Arizona in 2011 and 2012 and had very good production. He started just two games in 2013, but still had 43 catches. Roberts should be an upgrade over Moss. Talented but inconsistent Leonard Hankerson provides depth. Second-year man Jordan Reed is the tight end. At 6020 – 245, he is more of a move type tight end. The blocking tight end or "Y" will be Logan Paulson.
Offensive line
The offensive line is an area of concern. The left side is strong with tackle Trent Williams and free agent Shawn Lauvao. Williams has been to the Pro Bowl multiple times and Lauvao is very physical. Center has been a weak area, so the Redskins moved Kory Lichtensteiger from guard to center. That move will strengthen the position. The right guard position will remain in the hands of Chris Chester, but the staff would like someone better. The starter at right tackle has been Tyler Palumbo, but look for rookie Morgan Moses to take over. There were many draft analysts who felt Moses would go in the second round, but Washington got him in the third. Another rookie who will challenge will be Spencer Long from Nebraska. Long was also drafted in the third round and should eventually replace Chester.
Defensive line
A couple of years ago, the defense was a strong point for the Washington franchise, especially the defensive line. That was not the case in 2013. Adam Carriker, who looked like he was going to be a star, became an oft-injured underachiever and was cut in March. During free agency, Washington signed Jason Hatcher from Dallas. Hatcher had a superb year in 2013 and will be a huge upgrade. Opposite Hatcher was supposed to be Stephen Bowen, but he is coming off microfracture surgery and his status is up in the air. If Bowen can't go, the starter will probably be Jarvis Jenkins, who has shown flashes in his three previous years. The nose tackle will be Barry Cofield, now in his fourth year with the 'Skins. His backup will be determined from a group that includes Chris Baker, Clifton Geathers and Chris Neild. Geathers and Baker can also play end in the Redskins scheme. Another veteran with a chance to stick is Kedric Golston, but his play has dropped off in recent years.
Linebackers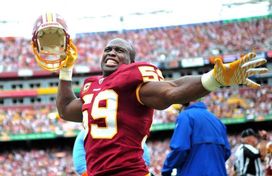 Linebacker London Fletcher said goodbye to the NFL after 16 seasons.
The real strength of the Washington defense is at outside linebacker. The duo of Ryan Kerrigan and Brian Orakpo is as good as any in the league. They both have size and speed as well as youth. Orakpo is 28 and Kerrigan is 26. Orakpo has the franchise tag designation this year and did not reach an agreement with the Redskins on a long-term deal, so his future with Washington beyond 2014 is in question. To back-up at outside linebacker, Washington drafted gifted Trent Murphy from Stanford. He gives the 'Skins a long-term solution outside if they lose Orakpo next year. Murphy also figures in the mix at inside linebacker. Long-time Washington starter London Fletcher retired, so that position in the lineup will have a new face. Murphy could be that person. Also in contention is former Eagle and Chief Akeem Jordan. On paper, Jordan is the starter going into camp. The other inside starter will be Perry Riley, who re-signed with Washington during the off-season.
Secondary
The secondary has been a position of weakness for Washington. Their best player is ten-year veteran DeAngelo Hall. When Hall stays focused, he can be very good. But he has too many lapses and, as a result, gives up big plays. The other corner should be David Amerson, who was the nickel corner a year ago. Fourth-round draft choice Bashaud Breeland from Clemson is talented but raw. He should end up being the nickel corner this year. In reserve the Redskins have Tracy Porter, who was signed as a free agent. Porter has starter experience in the league. Also competing for playing time will be E.J. Biggers, who started five games a year ago. Washington signed former Steeler Ryan Grant to play free safety. While Grant has been a consistently steady player, he is also in his 13th year in the league and may not have much left. The strong safety is Brandon Meriweather, who is one of the most undisciplined players in the NFL. Meriweather has talent, but too often breaks a coverage to freelance. He has also been known for his numerous late hits and cheap shots. A player to watch is 2013 draft choice Phillip Thomas. He missed all of his rookie year with an injury.
Outlook
While the NFC East isn't the strongest division, the Redskins aren't exactly the strongest team in the league. Gruden has to get RG3 to perform to his 2012 level. The first month of the schedule is not that difficult. Washington opens at Houston before coming home to host Jacksonville. Then the franchise will play two division matchups against Philly and the Giants. We should know after the first month if the Redskins are contenders or pretenders. My feeling is that they are no better than 7-9 or 8-8. While that won't get them into the playoffs, it is a huge improvement from a year ago.
Follow Greg on Twitter:
@
greggabe