August 17, 2010 -
Greg Gabriel
The annual preseason battle of New York
Every year, there is an obscure player who finds a way to stand out in the preseason. This year that player is Victor Cruz of the New York Giants. Playing in front of a national television audience Monday night against the New York Jets, Cruz had a superb game with six catches for 145 yards and 3 TDs.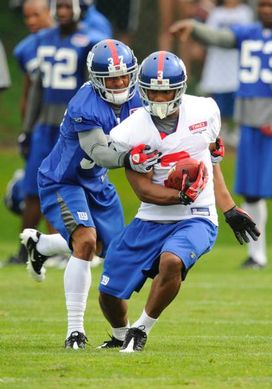 ICONWR Victor Cruz may have gone unnoticed during the scouting process, but he's on the map now.
Cruz is an undrafted free agent from the University of Massachusetts and a local New Jersey product. He was UMass' leading receiver the last two years but he was not a highly regarded prospect. The UMass receiver who was getting a lot of attention was Jeremy Horne because he had great speed. Horne's problem was he had very inconsistent hands. After watching Cruz last night, I wonder how he didn't get drafted. Not only did he run good routes but he showed excellent hands, a great ability to adjust to the ball and very good run after the catch skills.
At the UMass pro day, he ran a 4.48 and a 4.52 forty. With his size and ball skills, it was plenty fast enough. I had just read about him last week. The New York press was raving about his skills at the Giant training camp.
The Giants have plenty of quality depth at the wide receiver position with guys like Ramses Barden, Hakeem Nicks, Steve Smith, Mario Manningham and Sinorice Moss. If they were planning on hiding Cruz on the practice squad to further develop they will have to think again. There is no way this player goes unclaimed on waivers. His game on Monday night was just too strong. This guy is a player and the Giants and the rest of the league know it.
Other thoughts about the Giants/Jets game
The Jets did a lot of tough talking going into the game but it was the Giants who actually won. While saying that, the Jets first team dominated the Giants first team. And one thing is for sure: when a team plays a Rex Ryan defense they better be ready. Even though this was preseason, Ryan attacked — and attacked some more. He played his first team the whole first half and they played well.
I was impressed with the way Mark Sanchez played. He showed improvement over last year. He is much more confident and poised. I really like the way he throws the ball on the run. His overall accuracy was very good.
Another Jets player who stood out was corner Antonio Cromartie. The Jets acquired Cromartie in a trade with the Chargers. His size and length really stand out. For a tall guy he has exceptional quickness and body control. He is an excellent press corner. When Darrelle Revis returns, this may be the most talented corner duo in the league.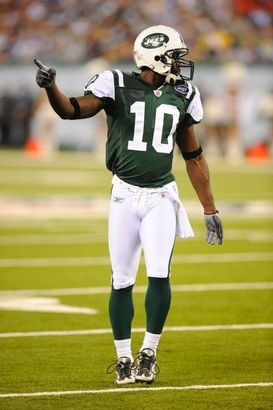 ICONSantonio Holmes will help the Jets when he is eligible for regular-season action.
New Jets receiver Santonio Holmes also played well. Holmes will miss the first four games because of suspension so he worked with the second-team offense. He made some big plays with four catches for 55 yards. I'm sure the Jets can't wait until his suspension is over. He will team well with Jerricho Cotchery and Braylon Edwards.
Draft choice Vladimir Ducasse, a huge guard from UMass, also played well. He is big and powerful. Ducasse played tackle in college and is making the transition to guard. He will be a starter before long.
Besides Cruz, the Giants had a few more interesting players. First-round pick Jason Pierre-Paul had his moments. He showed his pass rush skill with a big sack coming off the edge but was also buried on another play. I scouted Pierre-Paul last year and thought that his natural pass rush skills were excellent. He is raw and will need some time but he has a great upside.
It's interesting how the Giants use their running backs. They don't have a bell-cow per se, but they have three very good backs who play in a rotation and they all bring something different to the table. Brandon Jacobs is the huge inside pounder, Ahmad Bradshaw has great quickness and instincts and he also catches the ball very well, while Danny Ware is the speed guy. I like the way the Giants use these players.
More and more teams are going to a running back rotation. The colleges have been doing it for years. Using a rotation makes your opponents' defense have to work a little harder with preparation and it also extends the careers of the players. They are not taking as many hits each year. When you have two or three good backs you can play to each one's strength. The days of a team having one dominant back are just about over.
Click here to purchase the Total Access Pass / Fantasy Draft Guide from the NFP and receive a free Deuce Brand watch while supplies last.