December 23, 2011 -
Barry Dorey
The changing face of the 2012 NFL Draft
With Indianapolis beating Houston and Matt Barkley announcing that he would return to USC for his senior season, the whole scope of the 2012 NFL Draft dramatically changed yesterday. Let's look a look how.
The Barkley decision
When Barkley made the decision to go back to USC for one more year it actually did a few things. First off it took a premium quarterback out of the draft and that increases the value of Andrew Luck and Robert Griffin III. Why? With Barkely out, Luck and Griffin III are the only sure first-round quarterbacks left in the draft. That doesn't mean they will be the only two taken but what it does mean is that if you want a chance at drafting a potential "Franchise" quarterback you may have to trade up to get one. Oklahoma's Landry Jones still may enter the draft and he has first-round talent but he is not as good as Griffin III or Luck. I have heard some say that they don't feel Jones is a first but in my opinion if Blaine Gabbert, Christian Ponder and Jake Locker were first-round picks then Jones easily is a first rounder. He has been a better college player than all three of those players and is a better prospect.
Did Barkley make the right decision? In my opinion, no. While I admire him for wanting to go back to finish what he started and lead USC to a major bowl game after it comes off probation, it still was a poor business decision. Let's not believe for a minute that Barkley is at USC to get a degree. His "real major" is preparing for the NFL and he has a chance to earn millions when he completes his college work on that "major." Yesterday in his press conference he admitted that his dream was to play in the NFL so why not leave now when his stock is high?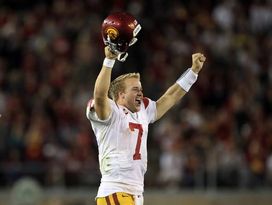 ICONMatt Barkley is putting NFL riches on hold for one more year.
There are many risks involved if he goes back to school, the number one risk being injury. He is one big hit away from not playing anymore. He also could have a poor senior season and his value could drop. All he has to do is look at what happened to fellow USC quarterback Matt Leinart and he can see what I mean. After Leinart's junior year, Leinart looked as if he would be a top 3 pick in the draft. He decided to go back to school for one more year and when he didn't have as good a season his value dropped. That drop in value was more than dropping 5-7 spots in the draft…the drop in the draft cost Leinart millions of dollars. That was the difference between being drafted in the top 3 and being drafted at 10.
There are some who will say that Barkely right now is the third-rated quarterback behind Luck and Griffin III. I don't believe that. While Griffin III is an excellent prospect in his own right, he isn't as good an NFL prospect as Barkley. Barkley has been trained in a pro-style offense, playing from under center and making pro-style reads while Griffin III has played in a much easier college spread offense. Barkely is more pro ready than Griffin will ever be. On top of that, he has all the mental and physical traits needed to excel at the pro level. If Barkley the entrepreneur wants to capitalize on his God-given talent, the time is now. Why wait and take a chance on hurting that value?
The Colts win
By winning last night the Colts didn't necessarily take themselves out of the rights to the top pick, but it made "earning" those rights that much harder. Right now they are tied with St. Louis and Minnesota with two wins each. With the Rams and Vikings each having two games left and the Colts one game anything can happen. If there ends up being a tie in records the first pick goes to the team that has the weakest strength of schedule. That can't be determined until the season is over next week, when total wins and loses of each team on the schedule are factored in.
The interesting scenario is this. Let's say that Minnesota and St. Louis end up with the top two picks and the Colts are third. St. Louis took Sam Bradford two years ago with the top pick and paid him millions. As a rookie he looked as if he was going to be a top NFL quarterback but has faltered this year. Do they try and get rid of Bradford and take Luck? The Vikings took Christian Ponder in the first round last April, but can they walk away from that investment and take Luck? Ponder has done some nice things since getting his chance to play so I doubt they would draft Luck. The more likely scenario is the Vikes or the Rams try and trade down to teams that want either Luck or Griffin III. They could get multiple choices for doing the trade and help their teams immensely. The teams that will need quarterbacks aren't that much further down in the drafting order. Those teams would be Cleveland, Washington, Indianapolis, Miami and maybe Arizona. With Barkley out of the equation and only having two "top" quarterbacks available, those teams can't afford to wait and hope someone falls to them. They have to be aggressive and trade up. That makes the top two picks that much more valuable. The team with the pick always wants a situation where multiple clubs may want their pick. If I was the GM of either team I would love that scenario. Granted, this is all fantasy football right now, but it makes for some interesting conversation between now and draft day.