October 21, 2011 -
Barry Dorey
The Golden Dome report
On Saturday, Notre Dame hosts USC in what is perhaps the biggest home game of the season for the Irish. It's also the first night game being played at Notre Dame Stadium in over 20 years. The Irish have won four straight after losing their first two games by close margins. While the Irish offense had a problem with turnovers particularly in the red zone early on, they seem to have remedied the situation with two straight strong performances.
Sophomore quarterback Tommy Rees improves with every outing. He has completed 66 percent of his passes for over 1,500 yards and 14 touchdowns. What I like about Rees is that he is an instinctive player who makes quick decisions and gets the ball out of his hand quickly. His go-to receiver is senior Michael Floyd, who has already caught 53 passes and 4 touchdowns and just may be the first receiver drafted in next April's draft. The run game is led by Cierre Wood, who has over 600 yards and is averaging close to 6 yards per carry and senior Jonas Gray, who in 6 weeks has gone from being a maybe undrafted free agent to a possible mid-round pick. Gray has run for close to 400 yards and is averaging over 8 yards per carry playing in a rotation with Wood. The key to Notre Dame's offensive firepower is a veteran offensive line that is among the best in college football this year.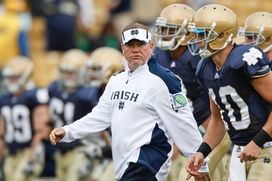 ICONBrian Kelly has guided the Fighting Irish to four straight victories.
The Notre Dame defense has also improved since the opening two games. Many will remember the secondary gave up 4 big plays to Michigan on an 80-yard drive in the closing 30 seconds to lose a game that looked like a sure win. The defense has some top NFL talent in linebacker Manti Te'o and safety Harrison Smith. A few members of the 2011 recruiting class have also stepped up in recent weeks to give the Irish strong depth. Freshman linemen Aaron Lynch and Stephon Tuitt have come up with big plays and given an already solid line a strong rotation. Some scouts have told me that these players as well as some of the other freshmen look like NFL players already. They are only 18 and 19 years old yet they have NFL bodies now. At least 10 members of the 2011 Notre Dame recruiting class have already seen game action, with about 6 of those players playing key roles. To go along with Lynch and Tuitt, linebackers Troy Niklas and Ishaq Williams, defensive lineman Chase Hounshell and running back George Atkinson III have also come up big at times.
Speaking of recruiting, the USC game is the biggest Notre Dame recruiting weekend in recent years. There will be close to 50 junior and senior recruits on hand to see this game. Notre Dame already has 16 commits for next year's class and 13 of those players will be on hand. There will also be some of the top high school players in the country taking official visits to see the game. The list includes safety Shaq Thompson from California, who many regard as the top safety in next year's class. Also visiting are running backs Keith Marshall and Byron Marshall, two highly regarded players. An interesting visitor is lineman Arik Armstead from California who just recently de-committed from USC. Some services have Armstead as one of the top 10 overall recruits in the country. A Notre Dame win could go a long way in securing commitments from several more of these top high school players. A win will also put Notre Dame in the top 25 and with a favorable schedule they could go into their finale versus Stanford with a 9-2 record. If that is the case, a win at Stanford could put the Irish in a BCS bowl game.
Some other big games
The SEC is the best football conference in the nation and the biggest game in the SEC this week is Auburn at LSU. This game as well as the LSU-Alabama game in a few weeks will determine who plays in the SEC Championship game in December. LSU has been playing great football of late but will be without 2 key players who were recently suspended for failing drug tests. The suspended key players are running back Spencer Ware and corner Tyrann Mathieu. Though the game is at LSU, the suspensions weaken the Bayou Bengals. Look for a close game.
In the Pac-12, the big game is Washington at Stanford. Washington has become a conference power again under coach Steve Sarkisian . They have a 5-1 record but two of those wins have been against Eastern Washington and Hawaii. Stanford is a different story. Stanford is led by quarterback Andrew Luck, who is the best NFL quarterback prospect I have seen in the last 10 years. No disrespect to Washington, because they are improved, but they aren't in the same class as Stanford. Stanford should win handily.
In the Big Ten, the key game has Wisconsin playing at Michigan State. The Badgers are 6-0 with every win being a rout. Michigan State is 5-1 with their lone loss at Notre Dame, but all their games have been much closer. Both teams have strong passing attacks and each has a highly regarded NFL wide receiver prospect. Michigan State has B.J. Cunningham while Wisconsin has Nick Toon. Both are big, physical and sure handed.
Last year Michigan State won in Madison 34-24 and it was Wisconsin's only loss. I look for the Badgers to return the favor and go on to win the Big Ten.