September 22, 2011 -
Greg Gabriel
The Golden Dome report
As long as any of us can remember, Notre Dame has been a football independent. They have enjoyed rivalries with such schools as USC and Stanford from the Pac-12, Michigan, Michigan State and Purdue from the Big Ten, Boston College from the ACC as well as Navy and Air Force. This has been good for Notre Dame and good for college football.
As we have seen in the last year, however, the whole structure of college football is changing almost on a daily basis and Notre Dame's days as an independent may be numbered.
Last year after Nebraska left the Big 12 for the Big Ten and Colorado and Utah joined what was the Pac-10, Notre Dame athletic director Jack Swarbrick said that Notre Dame prefers to remain a football independent unless there was a scenario that forced its hand. At the time that scenario wasn't there but it sure may be at any time in the near future.
A short time ago, Texas A&M announced they were leaving the Big 12 for the SEC, then last week Syracuse and Pitt announced they would leave the Big East for the ACC. There had been rumors that Texas and Oklahoma would join Colorado in the Pac-12 and Connecticut wanted to leave the Big East for the ACC. As of September 21, however, Pac-12 commissioner Larry Scott said that the league would not be expanding at this time because there were questions as to whether Texas would share revenue from The Longhorn Network. The key phrase in that sentence is "at this time."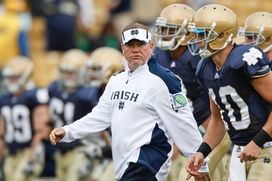 ICONWill Brian Kelly eventually be coaching in a BCS conference?
You can be sure that talks will continue and if the money is right for all involved the Pac-12 could become the Pac-14 or 16. If that happens then the Pac-whatever would be the first superconference. You can bet that if there is one superconference there will be more with the ACC, SEC and Big Ten all expanding.
So where does that leave Notre Dame?
If some or all of the major FBS conferences do further expansion, Notre Dame's hand may be forced. The main reason would be scheduling. Because of conference scheduling, many of the schools that play Notre Dame may not be able to in the future if their conferences expand. With some of these rivalries dating back to the early 1900's it would be a shame. But then again ten years ago who would have thought there would be no more Texas-Texas A&M and no more Oklahoma-Nebraska? As unfortunate as it is, the world changes and with the changes comes an end to many traditions.
If forced to join a conference, where would Notre Dame go?
The obvious answer to many would be the Big Ten with Notre Dame being right in the heart of Big Ten country and already having football rivalries with Michigan, Michigan State and Purdue. But the Big Ten might not be the best place for Notre Dame; the ACC might offer better opportunities.
Why? Recruiting! Notre Dame is not a regional recruiter for its football prospects. They recruit nationally, and in the last few years have gotten some pretty good players from areas that could be referred to as ACC country. In the current freshman class, five players are from states that have ACC members. In the upcoming recruiting class, there are already four committed players from ACC states.
Football isn't the only concern when it comes to joining a conference. Basketball and womens sports also enter into the equation. Notre Dame has been a member of the Big East for all sports except football, but with Syracuse and Pitt leaving, that conference is on shaky ground. Connecticut and Rutgers reportedly are looking to try and join the ACC also, and if that happens the Big East is history. If Rutgers and UConn are able to join the ACC that would give them 16 members and could leave Notre Dame on the outside looking in and the Big Ten as the only alternative. The ACC could accept UConn and then try and force Notre Dame's hand. Obviously Notre Dame would be more attractive to them than Rutgers.
Everything changes on this subject almost on an hourly basis. While the Big 12 may have stabilized for the time being by firing its commissioner, the outlook for the conference is like a time bomb. On the exterior it looks like things could remain as they are for the near future. But trust me, money talks. And if it's going to be profitable for a school to make a change they will and Notre Dame may just have to join the dance.
I know they have frowned on joining a conference in the past but it could be a good thing. Conference championship games make big money and getting to a BCS game makes even more.
Yes, as an independent Notre Dame doesn't share bowl money but by being in a strong conference their revenue could increase and give them more bowl alternatives. I think it will be a very interesting next few months as it will take that long for everything to sort out. What we read in the press and what goes on behind closed doors are two different things and it wouldn't shock me to find the Irish in a conference come February.