August 05, 2011 -
Greg Gabriel
The Golden Dome Report
Notre Dame starts preseason practice in a few days in the second year under head coach Brian Kelly. Many of the football publications have the Irish as a solid top 20 team. I will take that a step further and say they are at least a top 15 team. Why? This is their second year in both the offensive and defensive systems and because of this the players will be more comfortable with what they have to do. They won't be learning on the fly so to speak. Plus, there is quality talent at almost every position.
They have two quarterbacks capable of starting in Dayne Crist and Tommy Rees to go along with redshirt freshman Andrew Hendrix and true freshman Everett Golson. Kelly likes his quarterback situation so much that Notre Dame will not be signing one in this recruiting cycle. The only offensive position where there might be a weakness is running back — not because of lack of talent but lack of depth. Junior Cierre Wood had a strong second half of the season and is the starter and Jonas Gray is the main backup. Gray is a big talented back but has been inconsistent so far in his career. The Irish lost redshirt sophomore Cam Roberson to a knee injury in the spring so the remaining depth will be freshmen Cam McDaniel and George Atkinson III. Atkinson was originally recruited to play receiver but because of the lack of numbers has been switched to running back.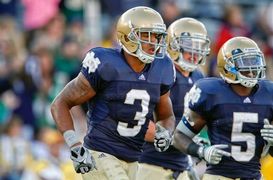 ICONMichael Floyd has been reinstated to the Notre Dame football team.
At the receiver position, Notre Dame is led by senior Michael Floyd, who is a potential high draft pick. Floyd is a big physical receiver with speed. He was reinstated to the program earlier this week after being suspended for an alcohol-related incident. To go along with Floyd, the Irish will start Theo Riddick and T.J. Jones. Riddick came to Notre Dame as a running back, so this will be only his second year at the position. Jones got some starts as a true freshman last year and played well. Depth is provided by Roby Toma, John Goodman and mercurial freshman Davaris Daniels. The tight end will be junior Tyler Eifert, who played extremely well when Kyle Rudolph went down last year with a leg injury.
With four starters returning, the offensive line will be as good as any in college football. It's led by tackles Zack Martin and Taylor Dever. The guards will be veteran Trevor Robinson and first-year starter Chris Watt and at center will be ever improving Braxston Cave.
The defense has size, talent and speed. Along the line the starters will be senior Ethan Johnson, who will be going into his fourth year as a starter. The other end is junior Kapron Lewis-Moore with Sean Cywnar on the nose. Redshirt freshman Louis Nix will split time at nose tackle. Nix is 6-3 and 340 pounds and has the talent to dominate games. He was overweight and out of shape last year and so he sat as a redshirt. He is coming off a very good spring after losing over 30 pounds. Two true freshmen figure into the rotation also. They are Aaron Lynch and Stephon Tuitt. Both of these players were recruited by the top SEC programs and are the type of defensive linemen that Notre Dame hasn't been able to sign in years. Lynch, who enrolled in January, had a dominating spring game and has outstanding pass rush traits.
The linebacker group is also loaded with veterans. They are led by junior Manti Te'o, who is one of the better linebackers in the country. Lining up next to Te'o will be veteran Carlo Calabrese, who plays with a nasty disposition. The outside linebackers will be senior Darius Fleming and sophomore Prince Shembo. Both have size and speed. Another true freshman, Ishaq Williams, figures in the linebacker rotation. Williams was also an early enrollee and had a strong spring. Like Tuitt and Lynch, Williams is a talented player who was recruited by the best programs in the country.
The secondary has talent but after the starters, not a lot of experience. The starting corners figure to be seniors Gary Gray and Robert Blanton with Harrison Smith and Zeke Motta at the safety positions. The backups at corner are sophomores Lo Wood and Bennett Jackson. Jackson was recruited as a receiver but moved to corner in the spring after showing aggressiveness and tackling ability on special teams last year. He played corner in high school so the position isn't entirely new to him. Freshmen Jalen Brown, Eilar Hardy and Josh Atkinson have to be ready to play as Notre Dame doesn't have a lot of veteran depth in the secondary. In fact defensive back is one of the areas that Notre Dame is recruiting hard this cycle and they already have five defensive back commitments for next year.