April 20, 2012 -
Greg Gabriel
The Golden Dome report
A little more than a year ago when Aaron Lynch signed a letter of intent and enrolled early at Notre Dame, he became one of the top defensive line recruits to go to the school in years.
Lynch was rated as a 4 or 5 star recruit depending on which recruiting service you looked at. While many highly rated recruits don't live up to the hype, Lynch did. He was the type of dominant defensive lineman you see at SEC schools, not Notre Dame. He started about half of Notre Dame's game last fall and led the team in sacks with 5.5. As far as future potential, it was unlimited. He certainly looked like he would be a future NFL draft choice.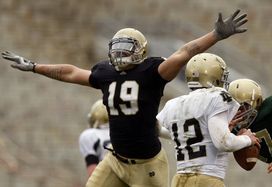 Aaron Lynch could be making a mistake by transferring from Notre Dame.
Last week, Notre Dame announced that Lynch would transfer at the end of the spring semester. As of now he is still attending classes at Notre Dame. As a former NFL scout for 29 years the question I have to ask from a scout's point of view is whether transferring is the right thing to do.
I say no and here is why.
Coming out of high school, Lynch was a very highly recruited player with offers from some of the best programs in the country. During the fall of 2010 Lynch gave a verbal commitment to Notre Dame. A few weeks later he de-committed from Notre Dame and committed to Florida State. A short time after that he de-committed again from Florida State and re-committed to Notre Dame. Obviously he shows a pattern of indecision. That he now wants to transfer even further shows that Lynch can be a confused young man who has trouble making and sticking to decisions.
Many NFL prospects often are under the assumption that scouts are usually just looking at how they play their last year in college. That can't be further from the truth. Good scouts who know their "area" are up to date on everything that happens to a prospect while he is in college and sometimes even in high school. If there are character concerns they really dig deep into the prospect's past because they have to know the answers as to "why." If Lynch does indeed transfer, when he goes through the interview process scouts will ask him about his high school recruitment decisions and his decision to transfer from Notre Dame. The question they will ask themselves is whether or not Lynch is flaky. Can he be depended on? Is he a quitter? Can he handle situations that are tough?
Most kids transfer because they can't get playing time at their chosen school. That isn't the case with Lynch. With Michael Floyd graduating Lynch was sure to be the face of the program for the next few years. With a school like Notre Dame that gets all the national publicity that it does being the face of the program would lead to unlimited national publicity. And if Lynch is as good as he think he is, all that coverage would be positive and help his career both in and out of football.
Does he realize that when he transfers he has to sit for a year? I've heard where he has thought that he would play college football three years then enter the draft. By transferring he sets back that process because the year of sitting out will only hurt his development. So now instead of entering the 2014 draft he would have to wait until 2015. For a kid who wants to be a pro that doesn't seem like the right thing to do.
People close to the program have told me that Lynch is basically a good kid but immature (like many 19 and 20 year olds). The reason for wanting to transfer is unknown but said to be personal. Whatever the reason, I hope that he thinks it through because it's a decision that will follow him the rest of his life and will have an effect on how he is looked at by NFL scouts. Since Lynch is still enrolled at Notre Dame, he can change his mind and return to the program assuming that Coach Kelly will allow him back. Remaining at Notre Dame may be the best decision for his future.