June 10, 2011 -
Greg Gabriel
The Golden Dome report
Let's take a look at what's happening around the Notre Dame football program in South Bend.
Recruiting
The spring semester has been over for a few weeks, but things are very busy in the Notre Dame football office. The Fighting Irish entertained highly thought of running back Chris Mangus from Raleigh, N.C., yesterday and today 4-star safety Jarrod Wilson from Akron, OH, is in. Wilson has Notre Dame, Penn State and Michigan as his top three schools. Over the next two and a half weeks, 17 other prospects will visit South Bend, including 5-star offensive tackle Andrus Peat and 4-star prospects running back William Mahone and defensive end Carlos Watkins.
The Irish already have 10 commitments for next February's recruiting class. The exact number of scholarships available should be between 20 and 25 depending on how many 5th-year seniors Brian Kelly decides to bring back. Notre Dame will go hard after defensive backs, running backs and wide receivers in this cycle. They have commitments from four defensive backs already, including Ron Darby from Maryland and Tee Shepard form California. Those two are the No. 1 and 3-rated corners in the country by Scout.com. The other defensive backs to commit are Nick Baratti from Texas and C.J. Prosise from Virginia.
Athlete David Perkins from South Bend Washington committed earlier this week and he will play either outside linebacker or running back. Notre Dame has received commitments form two receivers, Justin Ferguson from Florida and Deontay Greenberry from California. Both are big receivers with speed. Greenberry measures 6-3 and Ferguson 6-2.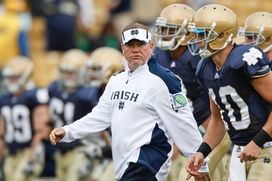 ICONBrian Kelly and the Irish currently have 10 commitments for next February's recruiting class.
This will be Kelly's second full recruiting class since getting the Notre Dame coaching job. In that short period, he has already been recognized as a strong recruiter. Unlike some of the Irish coaches in the past, Kelly goes after a large number of recruits, especially in areas of need. Last year, Notre Dame offered around 125 high school players. It's only June and the Irish have already offered more than 150 players, including 29 receivers, 15 running backs and 25 defensive backs.
As a final recruiting note, last fall the Irish received a commitment from offensive tackle Jordan Prestwood from Plant City, FL. Later in the fall, Prestwood changed his commitment to Florida State and enrolled there in January. Around national signing day in February, word was out that Prestwood was unhappy at Florida State and wanted to transfer. He finally did, getting his release from FSU last week and he'll be enrolling at Notre Dame this summer. Prestwood will not be able to play in games this fall but will be able to practice and will still have four years of eligibility left. This adds another fine offensive lineman to last February's class.
Position Switches
One thing that Kelly has done is recruit players who are capable of playing multiple positions in college. In the incoming freshman class there have already been at least three position switches. Offensive lineman Brad Carrico was originally recruited as a defensive end. He enrolled in January and a few days into spring practice was switched to offensive line and played well. Athlete George Atkinson III was originally going to play wide receiver but will now play running back, which was his primary position in high school. Athlete Matthias Farley was going to play corner but now will play receiver. Once camp opens in August, look for a few players who were recruited as defensive linemen to be switched over to the offensive line, in particular Tony Springmann and Troy Niklas. Both of those players had experience on offense and defense in high school.
Three players from last year's class made position switches prior to spring practice. Both Austin Collinsworth and Bennett Jackson played receiver in 2010 and are now defensive backs. Collinsworth is a safety and Jackson is at corner. Both players should get a lot of playing time this season at their new positions. Defensive lineman Bruce Heggie has been moved over to the offensive line.
Final Thought
Last fall freshman nose tackle Louis Nix was redshirted mainly because he was overweight and out of shape. He has spent a good part of the last year restructuring his body so to speak. While he was close to 375 when he reported a year ago, he is now playing at around 340. The loss of weight has increased his stamina and he had a strong spring practice period. He has the tools to be a dominant nose tackle over the next few years.