March 07, 2012 -
Greg Gabriel
The importance of Pro Days
In years past, whenever a player or an agent asked me if his player should work out at the Combine, my answer was always yes. The reason being if a player has an average to poor day at Indy he still has a chance to make up for it with a strong Pro Day workout. If you don't work at Indy and then have a poor workout at your Pro Day there is no chance to make up for it. Sure, you can schedule another workout, but with the calendar filled the next five weeks with other schools' workouts it can be difficult to go back to watch a player workout again. Even if some teams do show up, it won't be all 32 teams.
With that in mind, this week has already had and will have some big Pro Days.
Monday at Georgia, many scouts were hoping to see a strong workout by tight end Orson Charles. There were some who felt that Charles may have been the best tight end in the Draft. Not anymore! Charles' day was average at best. He measured 6024 and 250, did a 30.5' vertical jump and a 9'5 long jump. Scouts usually only give athletes two chances at both the vertical and the long jump but in this case they gave Charles three because his first two jumps in both events were so poor.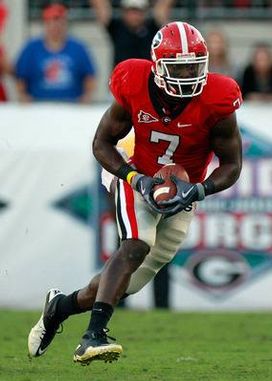 ICONOrson Charles did not help his cause at Georgia's Pro Day.
In the vertical jump he was less than 30'' on each of his first two tries and in the long jump he was less than 9 feet. When they went outside to run, because of the wind conditions, players had to run the 40 both with the wind and against. Charles' time with the wind (said to be 20 mph) was 4.75. Against the wind he ran a swift 4.99. Average them out and you get 4.87…hardly first tight end to be drafted speed! His 20-shuttle and 3 cone times were also very average. In the 20 shuttle he ran a 4.44 and in the 3 cone he did 7.48. Scouts needed to explain the drills over and over to him before he understood what to do. Based on his workout, Charles' stock will drop and with no Combine workout to compare it to he may fall to the middle rounds. I know some scouts feel he is no better than a 4th or 5th round pick at this time.
Two players who had done everything at the Combine looked good doing position drills for coaches at Georgia. They were tackle Cordy Glenn and center Ben Jones. The feeling is Glenn should be able to play either tackle or guard and Jones can play both guard and center.
Today Alabama works out and two of its top players will not be working because of recent injuries. Running back Trent Richardson and safety Mark Barron will workout later in the month.
For OLB/DE Courtney Upshaw the day is very important. He did drill work at the Combine but did not run. His 40 time will have a lot to say about where he gets drafted. At Indy, Upshaw looked uncomfortable dropping into coverage. He's at his best close to the line of scrimmage. The problem is he lacks the height and arm length teams prefer to play as a 4-3 defensive end. If he doesn't run a good 40 (under 4.8) and show improvement doing pass drops then his stock could go down some. His game tape is impressive so it will be interesting to see how he shows.
Northern Alabama's Pro Day is scheduled for tomorrow, but don't expect corner Janoris Jenkins to be there. He will workout for scouts at a place to be determined in South Florida later this month. Clubs are beginning to shy away from Jenkins because he did do poorly in interviews. While Jenkins has excellent talent, many are feeling he's not worth the baggage. As most of you know he was dismissed from Florida because of a number of failed drug tests. He also has a number of children each from a different woman. The thought process is he is unaccountable and just doesn't get it and maybe never will. It's too bad because he has great talent. But that is all part of the process; finding out everything about a player, not just his football talent.
The Oklahoma State workout will be very important for Justin Blackmon. He didn't run at the Combine because of convenient hamstring issues. He was planning on doing all the receiving drills (how can a player run routes with hamstring issues?) but when he looked poorly doing the gauntlet drill he stopped working out.
As a whole the receiver group was strong at the Combine and Blackmon needs a strong 40 and workout to assure him being the first receiver drafted. There are many in the scouting community who feel he can't and won't break 4.55 when he runs the 40. That may drop him a few notches.
Yesterday at Illinois, defensive end Whitney Mercilus followed up a strong Combine performance with another strong Pro Day workout. Being that he is an underclassman entering the draft early the thinking is that as good as he is there still is a lot of upside. The 3-4 teams had him do some drop drills and he was impressive. Knowing that he can play in most schemes helps his value and he should go in the first round.