February 03, 2011 -
Greg Gabriel
The Irish recruiting report
National Signing Day is like Christmas in February for college football coaches. Much like the NFL draft, teams and coaches have ear to ear smiles thinking about the new talent they have. Also, just like the NFL draft, they won't find out until late summer if they were right with their evaluations.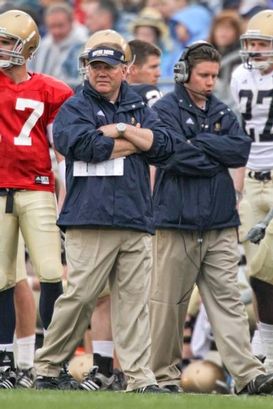 ICONNotre Dame coach Brian Kelly is bringing a top-ten recruiting class to South Bend.
Yesterday, Notre Dame signed a 23-man recruiting class that included two players that had committed to the Irish, de-committed and then reversed their decision again. Every year there are a few stories like that. But it seems this year it was far more common than in the past with many of the BCS schools.
Depending on what recruiting service you look at, Notre Dame finished with a top-ten class. ESPN and Rivals had the Irish at nine and Scout.com had them ranked at eight.
Notre Dame's class has a lot of flexibility — players that have the ability to line up at more than one position. Coach Brian Kelly recruits what he calls "big skill" players. The Irish signed 10 players who fit into that category. In high school these kids played offensive line, defensive line or linebacker. When they get to college they may start out at their high school position but chances are they may finish at another position because of their size and athleticism.
Notre Dame signed some players that were recruited heavily by the best programs in the country. The list includes Aaron Lynch, Ishaq Williams and Stephon Tuitt. Lynch (6-6 – 250) and Tuitt (6-5 – 260) are defensive linemen who will be 5-technique defensive tackles in Notre Dame's 3-4 defense. Williams (6-6 – 230) is an outside linebacker who can also play defensive end in pass rush situations. These players, along with OLB Ben Councell (6-5 – 225), give Notre Dame more height, length and speed on defense than they have had in a few years. Lynch and Tuitt were the players that committed, de-committed and then finally came back to the Irish.
Other signees such as Tony Springmann (6-6 – 260), Chase Hounshell (6-5 – 245), Brad Carrico (6-6 – 270) and Troy Niklas (6-6 – 245) will start out as defensive linemen. However, two or three out of that group could very well end up on the offensive side of the ball.
The most surprising Notre Dame signee is Troy Niklas. He is from southern California and is the nephew of former USC and NFL greats Clay and Bruce Mathews. It was thought that Niklas was a lock for USC because of the family connections. Notre Dame also signed two other players with strong NFL bloodlines. They are twin brothers George and Josh Atkinson, the sons of former Oakland Raiders great George Atkinson.
National Recruiting talk
The strangest story of the day had to be about offensive lineman Cyrus Kouandjio of DeMatha High School in Maryland. Every service has him rated as the number one offensive tackle in the country. Yesterday morning on ESPNU he announced that he would be signing with Auburn but never signed the letter of intent. As of this afternoon, he still hadn't signed with anyone. The strange thing is his older brother is a freshman on Alabama's football and most thought that 'Bama would sign Cyrus. By tonight that may still be the case. I have never said this about a high school player before, but Kouandjio looks to be just about NFL ready now. He is a freakishly athletic and powerful kid (6-7 – 325). And the scary thing is he will still get bigger and stronger.
Programs that did well recruiting were Alabama, Auburn, and Florida State. Nick Saban has been a top recruiter for years so it's not unusual for Alabama to do a great job. During the 90's Florida State was always one of the top recruiting schools but slipped in the last 10 years. Now with Jimbo Fisher (who coached under Saban at LSU) running the program they are in the fight for the top kids. For years Auburn has played second fiddle to Alabama in both the state of Alabama and nationally. But with Gene Chizik as the head coach they have become tireless workers going after premier players.
Another program that last summer looked as if they were going to stop being a threat for the top players was USC. Many thought that the heavy probation the NCAA handed the Trojans would hurt their recruiting efforts but they ended up with a 29-man class — including 15 four- and five-star type players.
If USC is down, the high school players aren't buying it — at all.